Disneyland Paris Extra Magic Time
Exclusive DLP park entry
Everyone who visits Disneyland Paris wants to spend as much time as they can in the parks. Now…… how would you like EXTRA magic time before the park even opens to the general public ? We all know the answer is "Oh Yes Please!"
Well, the great news is……. that is exactly what you can do when at DLP thanks to an offer called Extra Magic Time or EMT for short. In October 2017 Disneyland Paris changed the structure of Early Magic Hours & rebranded the offer as Early Magic Time. You can gain exclusive access to certain rides, characters & attractions between the hours of 8:30am & 9:30am before regular guests are allowed entry.
How does Extra Magic Time at Disneyland Paris work ?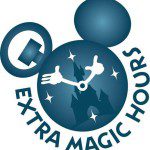 It's a very simple process and one which is a must have luxury for many who want to make the very most of their time on holiday at DLP. Whilst the parks usually open to the public at 10am each day, you will be able to enter at 8:30am and ride on a select few of the best ideas in Disneyland Paris. Not only that but you have exclusive character interaction with Mickey, Minnie, Goofy & many other characters who will take photos, sign autographs and cuddle up to everyone !
Simply go to the entrance where there will be a cast member and show them your Hotel Easy Pass, or your Annual Pass. Either allows you entry & the parks are much less busy at these times with shorter queue times than later in the day.
How do I get Extra Magic Time at Disneyland Paris ?
All guests who stay in any of the Disney Onsite Hotels automatically receive Extra Magic Hours with their booking. You will also be entitled to EMT if you are an Annual Pass holder of Magic Plus or Infinity class.
How much does EMT cost ?
Extra Magic Hours are FREE to all guests staying at a Disney Hotel & also FREE to Magic Plus & Infinity Pass holders.
What is available during Disneyland Paris EMT ?
Depending on ride closures & refurbishments then this can differ from day to day & season to season. Generally speaking there will be around 15 to 20 attractions open in the Disneyland Park & Studios. PLUS, there will be some of the most famous Disney characters available for meeting opportunities.
Most common rides open during EMT :
Disneyland Park
Princess Pavilion
Meet Mickey Mouse
Walt Disney Studios
Extra Magic Time is the perfect way to start your Disneyland Paris day!
---
Top Tips for Extra Magic Time at DLP

The park is much quieter during EMT and this can be a real benefit for cutting queue times to some rides

Most of the rides are child friendly so if you have toddlers or small children then EMT is definitely for you !

Why not head into the parks to meet a few characters, have a few rides and then return for a late breakfast at your hotel before heading out again when the park opens to the public.