Dumbo the Flying Elephant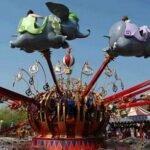 No Disneyland Park would be complete without being able to have a ride on Dumbo the Flying Elephant. This iconic ride features in every Disney park around the world & Disneyland Paris has a beautiful example of the ride. Situated at the centre of Fantasyland, the theming is amazing, with colourful circus marquees surrounded by stunning scenery of waterfalls, floral displays & weeping willow trees.
You have the job of helping Dumbo learn to fly as he grasps onto his feather in his trunk. The Dumbo the Flying Elephant ride is controlled by a small lever inside the cabin which moves you up as high as 7 metres into the air or down to a much more serene 1.5 metres above the ground. This ride is a must do for any Disney visitor despite only lasting around 90 seconds!
The Elephants swirl around in a circular carousel movement going up & down as often as you like. Most people tend to go straight up & stay as high as they can to see the wonderful views of Fantasyland. The carnival organ music adds an extra dimension to this ride & it truly is one of the most "Disney" rides of all.
---
Dumbo the Flying Elephant Tips

This ride is usually open during Extra Magic Hours so use this time to ride as it can get very busy during the day

If you want the best views (& don't mind heights) then sit on the outside chair

This ride seats 2 persons but if you want to ride & fly alone then ask the Cast Member

---

Dumbo the Flying Elephant video