Visiting Disneyland Paris with Disabilities
From December 3, Disneyland Paris will introduce a new accessibility program allowing visitors with disabilities or with specific needs to experience the parks based on their own assessment of their level of autonomy.

This new program is based on:

• Emphasizing the autonomy of visitors;

• Increasing the number of accessible attractions through a review of priority and easy access conditions and evacuation procedures;

• Removal of the obligation to be accompanied at attractions;

• A 25% reduction for visitors with disabilities who present official proof of their disability, as well as for any accompanying person.

Until December 2 inclusive, the reception policy and commercial conditions for disabled visitors remain unchanged.
Disneyland Paris takes it's responsibilities to those with disabilities very seriously and tries to go above & beyond the norm to bring the magic of Disney to everyone whether theyhave a physical disability, reduced ability or cognitive & unseen disabilities. You can view the official guide HERE which will help you plan your stay and we have listed below the main points to help you have a magical stay.
First Aid at DLP
There are dedicated First Aid rooms at Disneyland Paris in both the Studios & the Disneyland Park itself if you begin to feel unwell or need any sort of medical attention. Please also check out our DLP FIRST AID GUIDE.
Disney Studios – Front Lot between Studio Services & Studio Photo shop
Disneyland Park – Between Plaza Gardens Restaurant & Discovery Arcade
Are there different levels of Disability Pass?
There are 2 levels of Pass currently on offer. These are the Easy Access Card & the Priority Card.
How do I obtain one of the Disability Passes?
You can obtain your Easy Access Pass (sometimes called a Facility Pass) or Priority Pass at Town Hall in Disneyland Park or Studio Services in the Walt Disney Studios.
Will I be eligible for a Disability Pass?
Disability passes are given on a case-by-case basis so we cannot answer this accurately for you.
Easy Access Pass
The Easy Access Pass is usually coloured Orange & is for use by those who have a disability which does not need you to be registered disabled but still means you have disability issues. This could be for things such as being pregnant or having a broken leg amongst many other things. The Easy Access Pass gives you entrance to the Disability access areas & entrances but DOES NOT give you priority access.
You will need an original document dated within the last 3 months prior to your visit, signed & stamped by your doctor certifying that you have a temporary or debilitating illness or you are pregnant. You will be entitled to add ONE person to your card as a helper. If you need more people added (such as children who couldn't be left alone while you ride) then mention this to the Cast Member when you apply for your pass.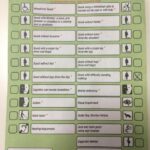 Priority Disability Pass
The Priority Disability Pass is usually coloured Green at Disneyland Paris & allows disabled guests & up to 4 helpers/group members priority access at certain attractions.  You may only have up to 2 helpers/group assist you in fireworks or parades areas. Queuing times will be dependant on visitor numbers but is generally much less than the average standard wait times. The rules on qualification have been known to change frequently so call DLP to ask if you are unsure.
The Pass can only be used if the person with the disability intends to ride the attraction. To qualify you must provide a doctors letter dated within 3 months of travel. The letter should state your condition & how this will detrimentally affect your enjoyment of the park (such as being unable to stand or queue for long periods). You can also take a European disabled Parking Badge (Blue Badge) but a Doctors letter is still advised. You will also be entitled to ONE FREE CARERS ticket each day on production of the necessary documents.
For safety reasons all disabled guests who :
is mobility or visually impaired
has a cognitive or mental disorder
has learning disabilities
has autism or a behavioural disorder
must be accompanied by at least one able-bodied helper who is over 18 & capable of helping them.
Guide & Assistance Dogs
Guide & Assistant Dogs are welcomed throughout the Disneyland complex and also on certain attractions. These dogs also have use of the garden areas. It is advisable to bring a drinking bowl for your dog for use throughout the day. Cast Members are not authorised to look after dogs at any time. If you wish to ride an attraction which does not allow Guide Dogs then please leave them with one of your helpers.
Wheelchair Rentals
Wheelchairs can be rented at the Wheelchair & Strollers Rental point just inside each of the Disney Parks. They cannot be pre-booked and are subject to availability each day. The cost is currently €20 per day (current 2018 price) & a deposit of €150 is required by cheque or credit card imprint. Cast Members are not authorised to accompany you around the Disney parks. If you own a Dream Annual Pass then hire is FREE!