Visiting Disneyland Paris with Disabilities
Disneyland Paris takes it's responsibilities to those visitors with disabilities very seriously. Disneyland Paris goes above & beyond the norm to bring the magic of Disney to everyone whether they have a physical disability, reduced ability or cognitive & unseen disabilities. You can view the official accessibility guide HERE which will help you plan your stay and we have listed below the main points to help you have a magical stay.
Does Disneyland Paris offer a Disability Pass?
There are 2 levels of Pass currently on offer. These are the Easy Access Card (sometimes called the Facilitated Access Card) & the Priority Card.
How do I obtain one of the Disability Passes?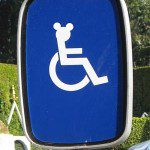 You can obtain your Easy Access Pass or Priority Pass at Town Hall in Disneyland Park or Studio Services in the Walt Disney Studios.
If you have booked a Disneyland Paris package including hotel then you can also obtain a disability pass from your concierge on arrival. Perhaps the easiest & most time efficient way to order a Priority Access Pass is online via the Disneyland Paris website.
You can request a Priority Access Pass disability pass online up to one month before your arrival date. You will be required to have a photo taken on your arrival day to be added to the pass.
Will I be eligible for a Disability Pass?
Disability passes are given on a case-by-case basis so we cannot answer this accurately for you. Guests with disabilities or a Long Term Chronic Disease can request a Priority Card or Easy Access Card for certain activities and services, depending on the official document provided by the Guest.
What Disability Passes are available at Disneyland Paris?
Priority Disability Pass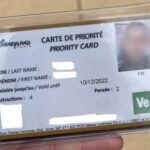 The Priority Disability Pass is in the form of a credit card sized pass complete with a photograph of the disabled party. Each Priority Disability Pass allows disabled guests & up to 4 helpers/group members priority (but not immediate) access at attractions, shows, parades, selfie spots as well as shop & restaurant checkouts.
You may have up to 2 helpers/group members assist you in fireworks or parades areas. Queuing times will be dependant on visitor numbers but is generally much less than the average standard wait times.
The Pass can only be used if the person with the disability intends to ride the attraction. To qualify you must provide an officially recognised medical document (details below) which is recognised by Disneyland Paris.
You will also be entitled to 25% Discount on day tickets or Annual Passes for both the disabled guest plus one carer.
How do i apply online for a Priority Access Card?
Visit the Disneyland Paris disability section and hit the "Request a Card" button under Priority Disability Pass section. From here you will be asked for a few short details regarding your pass so that you can be given the best & most practical assistance at each attraction dependant on your needs.
1. Choose a valid proof of disability particular to your country of residence.
2. What is the date of Visit?
3. Let us know if you use a wheelchair or other device used as a wheelchair.
4. Will you be accompanied at all attractions?
5. Are you able to embark/disembark from an attraction's vehicle on your own or with an accompanying persons assistance, and in a timely manner?
6. In case of evacuation, are you able to climb down a ladder or many stairs and walk by narrow and dark paths on your own or with your companion's help ?
7. You then supply some contact information and upload a digital photo (passport style) to complete your request.
Once you have supplied the above details you will be sent a confirmation email & your card will be ready to pick up on the day of your visit.
What documents do I need to prove disability for a Priority Access Pass?
Disneyland Paris receives visitors from all over the world and there are many different versions of what is classed as proof. If you follow the 7 steps above for online registration you will see during stage 1 what the required documents specific to your country are. As an example we have listed below what documents are eligible from UK visitors (as most visitors to this site are from the UK) :
United Kingdom
We accept the following valid documents from this country:
Disability Living Allowance
Attendance Allowance Award
Personal Independence Payment 
Parking Card for Disabled People 
Armed Forces Compensation Scheme 
National Disability Card ID
Disabled ID
Access Card 
Recognised Assistance Dog ID Card, issued by
Assistance Dogs International (ADI)
The International Guide Dog Federation (IGDF)
Assistance Dog UK (ADUK)
Registration Card BD8
Certificate of Visual Impairment (CVI)
As you can see, the list is quite extensive in catering for many official forms of proof issued by a designated country. It is important to note that a letter from a GP or doctor is not sufficient evidence on it's own without a supporting document as detailed in each countries list of acceptable proofs.
---
Easy Access Pass
The Easy Access Pass is for use by those who have a long term chronic disease or illness which may not entitle you to be registered disabled but still means you have disability issues. To use the Easy access system simply present your Easy Access Card together with your "appointment book" at an attraction and you will be given a timeslot to return and enter the attraction to ride. You can only make one reservation at a time and cannot reserve another timeslot until the first time has elapsed. The Easy Access Pass gives you entrance to the Disability access areas & entrances.
Easy Access card holders can be accompanied by up to 4 people for attractions.
Disneyland Paris has a list of 30 long term chronic illnesses which qualify for the easy Access Card. .
Long term Chronic Illnesses recognised by Disneyland Paris
1. Debilitating stroke.
2. Bone marrow aplasia and other chronic types of cytopenia.
3. Chronic arterial disease with ischemic events.
4. Complicated schistosomiasis.
5. Chronic heart failure, chronic heart valve disease, serious heart arrhythmia, chronic congenital heart
disease.
6. Chronic liver disease and cirrhosis.
7. Severe primary immunodeficiency disorder requiring long-term treatment, human immunodeficiency
virus (HIV).
8. Type 1 diabetes and type 2 diabetes.
9. Severe neurological and muscular disorders (including myopathy), severe epilepsy.
10. Haemoglobinopathy, chronic constitutional/severe acquired haemolysis,
11. Haemophilia and severe constitutional haemostatic disorders.
13. Coronary artery disease.
14. Acute/chronic respiratory failure.
15. Leprosy.
16. Parkinson's disease.
17. Inherited metabolic disorders requiring long-term specialised treatment.
18. Cystic fibrosis.
19. Acute/chronic nephropathy and primary nephrotic syndrome.
20. Paraplegia.
21. Periarteritis nodosa, acute disseminated lupus erythematosus, progressive systemic sclerosis.
22. Severe progressive rheumatoid arthritis.
23. Long-term psychiatric disorders.
24. Ulcerative colitis and progressive Crohn's disease.
25. Multiple sclerosis.
26. Progressive structural scoliosis (where the curve is 25 degrees of more) through to spinal maturity.
27. Severe ankylosing spondylitis.
28. Organ transplant disorders.
29. Active tuberculosis.
30. Malignant tumour, lymphoma or haematopoietic cancer.
You will need an original medical certificate (in French or English) dated within the last 3 months prior to your visit, signed & stamped by your doctor certifying that you have a long term chronic illness along with the number of the illness above. You will be entitled to add ONE person to your card as a helper. If you need more people added (such as children who couldn't be left alone while you ride) then mention this to the Cast Member when you apply for your pass.
How long is the Disability Pass valid?
Disability Passes are valid for 7 days. If you book an online Priority Access Pass and subsequently have to cancel or change your dates of visit then please make a new request online. Annual Pass holders will receive a disability Pass covering the entire duration of the Annual Pass.
Do disabled guests require an accompanying person or carer?
No. Guests with disabilities are not required to visit with a carer or accompanying person to enjoy Disneyland Paris. This choice is left to the Disabled guest although it may benefit yourself in terms of assistance you may require during your visit.
---
Accessibility & Assistance for Disabled Guests
Guide & Assistance Dogs
Guide & Assistant Dogs are welcomed throughout the Disneyland complex and also on certain attractions. These dogs also have use of the garden areas. It is advisable to bring food and a drinking bowl for your dog for use throughout the day. Cast Members are not authorised to look after dogs at any time. If you wish to ride an attraction which does not allow Guide Dogs then please leave them with one of your helpers.
Guide dogs & assistance dogs are allowed to relieve themselves in the Disneyland Paris gardens, however, we would be grateful if guests could clean up any mess if at all possible.
If you plan to visit Disneyland Paris with a service animal, please make sure you have up-to-date travel documents with you (proof of vaccination, documented proof that the animal is an assistance animal). These will need to be presented when you check in to your hotel or at the entrance to the Disney Parks.
Wheelchair Rentals
Manual wheelchairs can be rented at the Wheelchair & Strollers Rental point just inside each of the Disney Parks. They cannot be pre-booked and are subject to availability each day. The cost is currently €25 per day (current 2022 price) & a deposit of €200 is required by cheque or credit card imprint. Cast Members are not authorised to accompany you around the Disney parks. If you own an Infinity Annual Pass then hire is FREE!
There are private companies in the surrounding area who can deliver a wheelchair to your hotel for use in the Disney Parks. We suggest using a search engine to find prices & terms for these providers.
First Aid at DLP
There are dedicated First Aid rooms at Disneyland Paris in both the Studios & the Disneyland Park itself if you begin to feel unwell or need any sort of medical attention. Please also check out our DLP FIRST AID GUIDE.
Disney Studios – Front Lot between Studio Services & Studio Photo shop
Disneyland Park – Between Plaza Gardens Restaurant & Discovery Arcade
Shopping Service
Disneyland Paris provides a "shopping service" to all guests and this can be helpful for disabled guests in particular. In any Disney merchandise store, if you finish your shopping before 3pm then you can simply leave your purchases in the store until 6pm when you can then pick them up. You can also choose to have the purchases delivered back to your Disney Hotel FREE OF CHARGE later that evening.
Toilets
All Disney toilets can be accessed by any guests who have reduced mobility. Each toilet is equipped with flashing warning light in event of an evacuation. If a disabled adult (or child under 3) requires changing then please visit one of the First Aid Centres where you will be accommodated further.
Disabled Car Parking
Guests with disabilities can use the designated parking spaces available in both the main park and the motorhome car park. To use these spaces you need only present the payment booth operator with your Blue Badge or European Parking Badge upon arrival. Accessible car parking spaces at Disney hotels, resorts & park's car parking area are marked clearly with a wheelchair symbol. Only a limited number of designated spaces are available.