Weather at Disneyland Paris
One of the most important factors you will want to consider when booking your dream holiday is the weather at Disneyland Paris. Below we have tried to give you a good picture using up to date &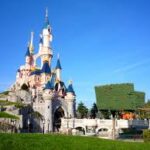 historical averages for throughout the months so you can see what the weather will probably be like when you go to DLP. It would be nice if every day was sunny…. well, except for Christmas when I am sure we would all like to see some magical snow falling on the castle… but we would settle for sunny weather 🙂
Unfortunately it can't always be glorious sunshine in Paris as France lies in a region where the weather is not as good as you would expect to see if you were in other Disneyland Parks throughout the world such as Florida, Tokyo or California!
Disneyland Paris does enjoy some pretty good weather during most of the year & especially in July/August when temperatures are at their highest. March is when we begin to see some warm weather creeping in with the occasional heatwave. During the summer months it will mostly be sunny with occasional cool days & then at the start of October the temperature starts to fall as the month goes on with November signalling the start of much colder weather. December through February can be bitterly cold with Wind, rain, sleet or snow a very real possibility….. but it's also Christmas season so there is magic in the air too!
Historical Average temperature for Disneyland Paris
Historical Average Rainfall for Disneyland Paris
If you have any specific comments or questions regarding the weather then please comment below or hit us up on our Facebook or Twitter pages & we will be sure to help where we can.