What can you do at Disneyland Paris?
Disneyland Paris is the most visited Theme Park in Europe by a long way. It also has the advantage of being under an hour away from the centre of Paris which is the most visited tourist destination in the world! There's so many things to do in Disneyland Paris that you will be totally immersed in what is known as the "Disney Bubble". This is the feeling of being totally immersed in Disney, the shows, the rides, the atmosphere & everything else that goes with DLP to the point where you will probably spend your whole stay absolutely oblivious to anything in the outside world….. especially any stresses at home or work! Result!
---
Disney knows how to build awesome rides. Here we have listed all of the rides inside the main Disneyland Park with links to a more in-depth analysis of each individual ride. It's not just that these are world class rides…. it's the totally incredible detail which goes into each & every ride.
From the moment you walk into DLP you will be amazed at the level of detail & build up to each ride there is. Disneyland Park has a great mixture of rides for toddlers all the way up to the biggest thrill seekers. There really is something for everyone with an atmosphere that will take your breath away……….. READ MORE
---
The 2nd park to be built at Disneyland Paris features some jaw dropping thrill rids including the Twilight Zone Tower of Terror, Rock 'n' Roller Coaster & Crush's Coaster. Of course….  Disney caters brilliantly for every age is & you can also see the 'live' stage showing of Disney Junior Dream Factory as well as the hilarious Stitch Live! show for the younger ones.
This park features the newest ride (and a Disneyland Paris exclusive) Ratatouille! This latest addition sits in it's own brand new location purpose built to resemble the streets of Paris as in the movie Ratatouille. It really is a beautiful area of the park to go to with it's own restaurant "Bistrot Chez Remy" & boutique in line with the movie. The ride itself uses the latest 3d technology to shrink you down to the size of a rat as you go on an adventure in the kitchen. check out our full guide page… READ MORE
---
Taking a tour around either of the Disneyland Paris theme park areas can be one of the most rewarding & satisfying ways to fill a few hours at DLP. Even visitors who have been many times before can learn something new as your tour guide will take you on a walking tour of each park informing you of the history of the theme parks around the world & most importantly, here in Paris.
Check out our full review together with prices for the Disneyland Paris tours & how to book them…. READ MORE
---
Taking a holiday to Disneyland Paris is the greatest fun in the world, but of course there may be times where you just need to wind down, relax & have some 'ME' time! Don't worry, Disneyland Paris know all about taking care of your every need. In many of their onsite & partner hotels you will have the option of going for a relaxing dip in the pool, having a sauna or booking yourself a well deserved hot stone massage!
We have all the information you will need on where to go & which hotels offer each service in our full Spa & Fitness guide page….. READ MORE
---
With Disneyland Paris you also have the choice to spend the day doing a number of exciting Sports & Leisure activities. Whether you enjoy a round of Golf on an award winning golf course or perhaps you would like to take the kids Pony-trekking….. Disneyland Paris can be your ideal place to have some fun outside of the theme parks themselves.
In the local area there are also Wildlife parks & a Sea-Life centre on your doorstep should you wish to have a walk on the wild side! All of the details are in our Sports & Activities web page which we have listed a number of brilliant ways to spend a day of fun away from the hustle & bustle of the theme parks….. READ MORE
---
Of course there are many, many souvenir, merchandise & clothing shops in every area of Disneyland Paris. Whether you are in Disney Village, the Walt Disney Studios, one of the hotels or the main Disneyland Park then you will always be near a shopping outlet. When you are here you MUST buy yourself some Disney Mickey Ears. I mean…. you just have to don't you?!
But….. it's not only Disney goods you can buy because just 5 minutes away in the nearby village there is a designer outlet village & also a very large shopping mall selling many shopping delights. There are also some fine food outlets & restaurants so that you can make a day of it. Check out our guide to shopping at DLP with a comprehensive list of all the shops available….. READ MORE
---
One of the big reasons for visiting Disneyland Paris is the way in which they keep you entertained in every way. The theme park rides are not the be all & end all of Disney Paris….. far from it! They have a wealth of entertainment to suit everyone whether you are looking for a great family show in the evening or a break from the theme park to have some down-time. Disneyland Paris has it's own cinema complex showing the very latest blockbuster movies (French & English showings) as well as some brilliant LIVE MUSIC shows at Billy Bob's Saloon in Disney Village.
If you are looking for something more family orientated for the young ones then why not try the world famous "Buffalo Bill's Wild West Show" featuring Mickey & friends? It's a great show with a meal thrown into the cost of your ticket so everyone is happy! Check out our full guide on Entertainment at DLP….. READ MORE
---
Everyone knows that Disneyland is THE PLACE TO GO if you want to see all of your favourite movie & cartoon characters from hundreds of Disney movies throughout the years. Of course, these days it's not just your classic cartoon characters such as Micky Mouse, Donald Duck & Pluto who you can see but a whole host of iconic movie figures from the world of Pixar & Marvel including the likes of Woody, Buzz Lightyear, Spiderman & Baymax to name but a few!
You will always see characters throughout the parks doing 'Meet 'n' Greets' as well as there being scheduled meeting points to see the lovely Disney Princesses & other favourite Disney characters from The Lion King, Mary Poppins, Peter Pan & many, many more movies. If you want some quality interaction you can even have a meal with your favourite characters in many of the Disney restaurants too! Check out our guide on where & when you can see these iconic Disney characters in our guide page…..READ MORE
---
If you are looking for that "something special" to do with your girls then you should book the Princess for a Day package at Disneyland Paris. Your child will be pampered & made to feel like a princess with her very own make-up & hair stylist. The stylist will transform your girl into her princess of choice and also add a little bit of pixie dust so she sparkles all day. There are 4 packages to choose from and the experience is immortalised with a photo shoot at the end with beautiful pictures you can take home with you.
Check out our guide on where to book, how much it costs & what the packages involve on our guide page….. READ MORE
---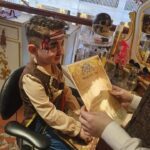 After many years of the princesses having all the fun with Princess For a Day makeovers, it's now time for the pirates to get their swagger on! This unique service is sure to get your boys (or swashbuckling girls!!) ready to set sail for fun on your voyages around the parks. The pirate for a day experience is available only in Disneyland Hotel. You DO NOT have to be staying in the hotel to purchase…. it's open to all guests!
With the Pirates of the Caribbean franchise being such a massive success worldwide, we have seen a resurgence in kids wanting to dress up as pirates…… & now they can!