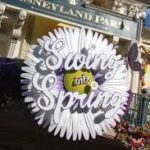 Swing Into Spring
Easter marks the beginning of the Swing into Spring Season at Disneyland Paris. The flowers are starting to bloom and the park beings to blossom into a life filled with colour and imagination. All areas are filled with flowers and special displays which represent springtime such as Bambi, Mary Poppins, Floral Displays & much much more.
This can be a great time to visit because the weather from the middle of march onwards is when you can be blessed with gorgeous warm weather of around 18-26 degrees. It is also a fairly quiet time for the Parks if you go before or after the Easter Holidays when queue times can be next to zero for most rides. Prices are also lower in March and can present some real value for money with Disneyland Paris Deals often popping up at this time of year including Kids Go Free, Free Half Board or Extra Days & Nights on many packages.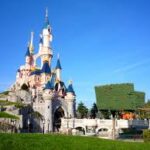 Summer Festival
Summertime at Disneyland Paris is when the Park is at it's busiest but arguably at it's best. This is usually when there are very few rides closed & the weather is at it's best. Temperatures can reach 35 Degrees Celsius and there is hardly ever rain.
The parks are also open for the longest at this time of year giving you days of up to 15 hours in the parks each day ! Every night sees a fireworks display and the famous Disney Dreams castle light & fountains show to round of the night at closing time. As you would expect this is the most expensive time to visit Disney especially during July & August and ride times can be very long for every ride in both the main park & the Studios.
---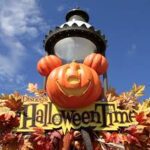 Halloween Festival
Halloween at Disneyland Paris is an amazing experience that everyone should try. The 2023 Disney Halloween Festival season runs from October 1st to November 5th and sometimes the last week of September and the 1st week of November is included. The ghostly decorations and spooky displays really change the look of the park unlike any time of the year. Kids will love this time of the year and it's the best chance to catch the "Disney Villains" such as Maleficent, Jack Skellington and Cruella De Vil.
Of course on Halloween itself, 31st October, you can enjoy even more spooky fun with the Special Mickey's Halloween Party & an adults Halloween escapade in the Studios. Both are ticket only & MUST be bought in advance. The weather can be quite warm to quite chilly so keep an eye on forecasts if you book. The prices range from cheap at the end of September to quite expensive around the very end of October.
---
Christmas at Disneyland Paris
Probably the most magical season in Disneyland Paris is Christmas at DLP.
Disneyland Paris at Christmas is full of wonder with the whole parks decorated in a massive amount of Christmas fairy lights, decorations and of course a magnificent Christmas Tree measuring 24 metres tall and adorned with over 1000 beautiful ornaments.
The Disneyland Paris Enchanted Christmas Season dates for 2023 are November 11th to January 7th inclusive. There is also a special Christmas Parade and in 2014 we began to see special Meet 'n' Greets with Anna & Elsa from Disney's Frozen movie.
Seeing is Believing at Christmas time and there is magic everywhere. You can wander down Main Street U.S.A and listen to the enchanting Christmas music. Of course there is also the New Year celebrations and a massive firework display which you wouldn't want to miss ! The New Year's Extravaganza is a ticket only event & you must purchase tickets in advance, Spaces are limited! check out our full article on Christmas in Disneyland Paris