Save Time Queuing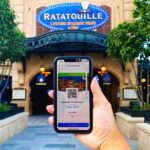 So, what is standby Pass? Whenever you visit Disneyland Paris you will want to maximise your time to enjoy the many attractions or wonderfully themed restaurants & boutiques. For this reason Disneyland Paris have given you a free and easy digital solution! You will need the official Disneyland Paris App which you can download from Apple or Google store in advance of your visit, register an account and link your tickets.
The Standby Pass is only for the parks most popular rides where queue lines can be very long especially during peak times. So, instead of having a queue 2 hours long, the regular queue will be closed and guests are given a standby time for later that day to remove the need for standing in a queue for 2 hours!
There will be signage on display at the entrance to rides when the system is in effect & you will not be able to join the regular queue at this time. This is when you will need to use the standby system to your advantage.
How Does Standby Pass Work?
How to get a Standby Pass
Open the Disneyland Paris App then simply click "Reserve a Standby Pass" and follow the simple on-screen instructions. You will be able to reserve a pass for your whole group. Your Standby Pass will be allocated to you with a return time.
Upon returning you simply show the QR code which is saved in your profile section & join the queue. Queue lines will be much shorter than the regular queue line at a popular attraction thanks to the standby system!
Which attractions use Standby Pass?
As stated above, only the most popular attractions which have very long queues at peak times will use the service:
More Questions answered
When can I reserve a standby pass? – You need to be in the parks, on the day to reserve a pass. New time slots become available at 11:00am, 1pm & 3pm.
How many passes can I have? – You can only have one at a time. You can reserve as many as you like every day but must wait until your current pass start time expires before reserving a further pass.
Can I give my pass to someone else? – Passes are linked to ticket holders & cannot be transferred to another guest.
How many times can I use a Standby Pass? – Each standby Pass allows one visit to one attraction. If you want to ride the same attraction you must wait 2 hours to reserve a new pass. You can reserve a different attraction once your current pass start time has expired.
Do children need a Standby Pass? – Children over 3 years old require a pass. Please check Ride height restrictions to ensure they can ride before reserving them a pass.
What if I don't have a smartphone? – If you don't have a smartphone or your phone has no battery you can either find a mobile charging location or head to City Hall in the main park or Studio Services at Walt Disney Studios where a Cast Member will book you a pass (limited availability).