Disneyland Paris Fastpass
Fastpass has now been REMOVED as a service at Disneyland Paris and replaced with Standby Pass & Premier Access Pass. All information on this page is now out of date & only left to view for posterity!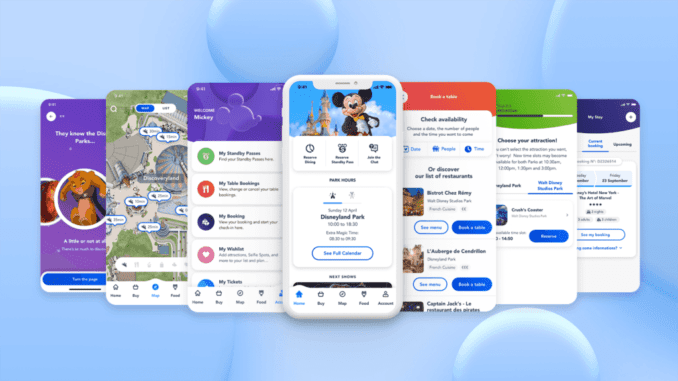 Disney Standby Pass system
Disneyland Paris Fastpass is a great way to maximise your time in the parks and beat the queues. A valid park ticket is required to use any Fastpasses.
How do Standard DLP Fastpasses work ?
Insert your Park entrance ticket into the Fastpass station for your chosen ride (list below)
Receive your FASTPASS ticket which will state a time to return (e.g 11:35-12:05)
You are free to explore other areas of the park at your leisure
Return to ride during the time printed on your FASTPASS
Board your ride at the exclusive FASTPASS entrance with a much smaller queue
Are there different levels of FastPass ?
There are 5 levels of Disneyland Paris Fastpass.
Standard Fastpass
Available free to all ticket holders including annual pass holders. You can only use one at a time & there are a limited amount per day per ride for guests.
Disney Hotel Fastpass
If you are staying at Club Level of the Disneyland Hotel, Newport Bay hotel, Hotel New York or Sequioa Lodge then you will receive one extra Disneyland Paris Fastpass per person per day of your stay. These passes are free & in addition to Standard Fastpasses. They allow you entry at a time that suits you to any Fastpass rides (excluding hours between 1-4pm)
VIP Fastpass
Available to all guests staying in Suites at Disneyland Hotel, Newport Bay Hotel, Sequoia Lodge & Hotel New York. These exclusive Fastpass Tickets allow guests who qualify to unlimited access to all Fastpass queues throughout the day.
Super Fastpass
Disneyland Paris Super Fastpass allows visitors to purchase a Fastpass which allows a one time use on a specific 3 attractions that day. You can purchase either a Family Speedy Fastpass or go for the Big Thrills Speedy Fastpass. Check the charts below for more info.
Ultimate Fastpass
Disneyland Paris Ultimate Fastpass allows visitors to purchase the top level fastpass on offer. The Ultimate Fastpass also comes in 2 levels depending on your needs. You can opt for One Time Speedy Access which allows visitors a one time use to every Fastpass ride for the day. The Unlimited Speedy Access allows guests to visit the Fastpass queue of all Fastpass rides as many times as they like for that day. Check the charts below for more details.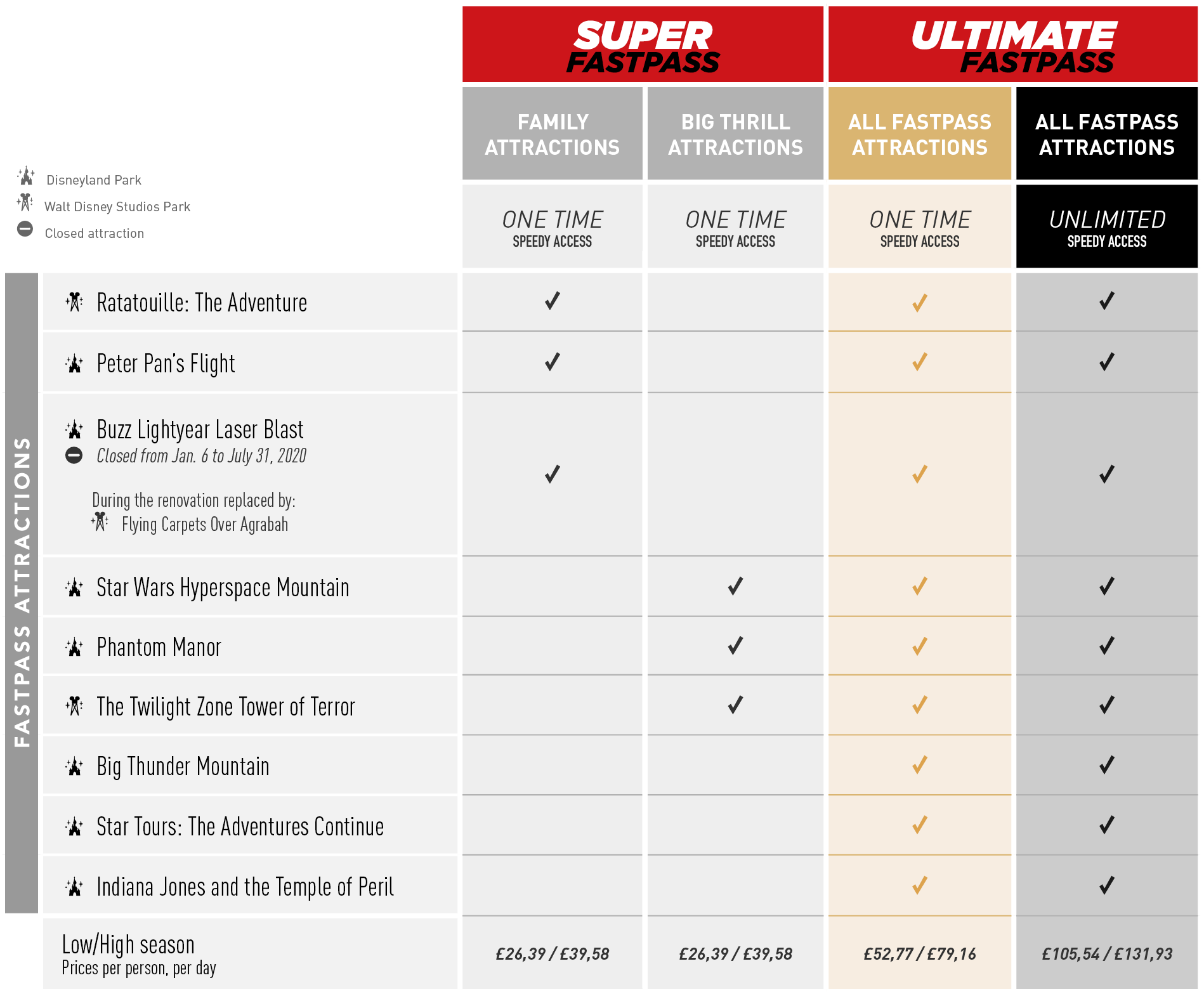 Which Rides in DLP have Fastpass ?
There are currently 10 rides where you can use Disneyland Paris Fastpass. They are;
Disneyland Park Fastpass rides
Disney Studios Fastpass Rides
Top Tips for Disneyland Paris Fastpass tickets

If you turn up too early according to your time then you will not be allowed to ride. Occasionally a Cast Member may allow you to ride if you are slightly later than your Fastpass ticket states.

Standard Fastpass tickets are restricted to one at a time. So if you receive a Fastpass ticket for use between 12 & 12:30 then you cannot collect another Fastpass ticket until this one has been used or expired.

If you are visiting on a busy day then it may be wise to buy a Super or Ultimate Fastpass ticket to guarantee getting on your favourite attractions.

Standard Fastpasses can run out very quickly on the most popular rides & during high season. Get there early if you need to get one.