Offsite Partner Hotels in Disneyland Paris
Disneyland Paris offer a range of partner hotels which are situated very close to the parks. These hotels can be a better option for those on a budget or for visitors who hold Annual Passes to Disneyland Paris and may not need to book an entire package. Below we have listed all offsite Disneyland Paris partner hotels with a link to a review of each Disneyland Paris partner hotel so that you can make an informed decision on what the best option is for you and/or your family.
Disneyland Paris partner hotels
You can rest assured that all our reviews are honest, up to date and full of useful info to help you choose where to stay in Disneyland Paris. With a range of onsite hotels to compliment the Disney fanatics and also our reviews of nearby Disneyland Paris partner hotels we have covered all the angles to make your trip a magical one.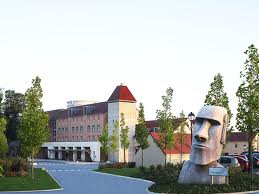 When choosing one of the Disneyland Paris partner hotels above you can be safe in the knowledge that you are just a short shuttle ride to the parks (usually 5-10 mins) and you also have the freedom of venturing to other areas nearby.
All partner hotels have that little bit of a Disney feel without going overboard and of course the value can be much better if you are buying your park tickets separately or using an annual pass. Please feel free to read our Disneyland Paris partner hotels reviews and perhaps add your own so that others can see what you made of each Disneyland Paris partner hotel.
(Please turn your device to HORIZONTAL to view table in full)
| Hotel | Hotel Review | Swimming Pool | Exclusive Suites | Shuttle Bus | Quality | Theming |
| --- | --- | --- | --- | --- | --- | --- |
| Dream Castle Hotel | | | | | 4* Hotel | |
| Magic Circus Hotel | | | | | 4* Hotel | |
| Explorers Hotel | | | | | 3* Hotel | |
| Campanile Val de France Hotel | | | | | 3* Hotel | |
| B&B Hotel DLP | | | | | 2* Hotel | |
You can leave your own reviews & ratings for each hotel above by clicking on the review and scrolling down to leave your scores. All our reviews are updated constantly to ensure that you can make the perfect choice for your perfect trip to Disneyland Paris.