Disney Village Restaurants – Paris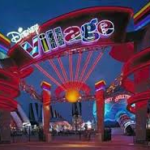 Dining is one of the treats of visiting Disneyland Paris with every budget, taste and experience catered for. We love being able to snack on a burger in the afternoon before heading to some of the finest international cuisine in the evening. Please have a look at our comprehensive list of Disney Village Restaurants below and read our impartial reviews on each dining experience.
The Disney Village in Paris has a large & varied selection of restaurants and bars to satisfy even the fussiest of eaters. You can relax in the fabulously themed Rainforest Café (a favourite with kids) or perhaps you would like to dine with Mickey & Friends in Café Mickey. If you are on a tight budget or have kids who like the comfort of food they already know then there is a Starbucks, Earl of Sandwich and of course a McDonalds in the Disney Village to keep them happy. The Disney Village Restaurants are a perfect place to visit on your way home to your hotel of an evening.
Disneyland have 3 main types of service for their restaurants.
1. Counter Service – These restaurants require you to order your food at the counter before either taking away or sitting in to enjoy your meal. They are generally the cheapest way to eat in Disneyland although prices vary.
2. Table Service – Table Service dining in DLP resort is the classic restaurant experience. Typically you will be served by a waiter and seated at a table with a choice of menu. These are typically more expensive but can be much more relaxing and a high quality of food.
3. Buffet – As expected, buffet restaurants in Disneyland Paris require you to choose your own food from a vast selection of foods before taking your seat to enjoy the cuisine. Prices range from good value to slightly more expensive but the quality is always there.
Disney Village Restaurants Paris
(Please turn your device to HORIZONTAL to view full table)
It would be great if you could click on any of the reviews for places you have already visited and leave your own ratings and review for each outlet. This will help our newer members make an even better informed decision as everyone has different tastes. We will regularly update our Disney Village Restaurants reviews to keep you informed.