McDonalds Disneyland Paris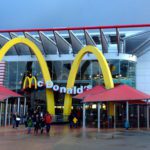 If you are looking for a budget meal or simply love McDonalds then you can find your favourite fast food restaurant located in the Disney Village area at Disneyland Paris. The Golden Arches are one of the most recognisable brands in the world & can be a welcome break especially for younger kids.
Visitors to Disneyland Paris will be pleased to learn that the prices are pretty much the same as you would expect from your local McDonalds & the menu is also fairly comprehensive with all the meals you would expect including Happy Meals for the kids!
McDonalds Disneyland Paris is located just off the main throughway in Disney Village at the back of Rainforest Café. There are self service machines where you can choose & pay for your order without having to queue. McDonalds at Disneyland Paris regularly have special menu offers giving discounted Panoramagique balloon ride tickets or discounted entry to the Disney Village Cinema.
As the prices & menu items at McDonalds can vary quite a lot we are unable to constantly provide menus but you can be safe in the knowledge that the prices are not hugely inflated as many expect. This can be a very busy restaurant due to the fact that it is very popular, people know what they are getting & that "fussy" eaters can always find something to eat here.