Travelling to Disneyland Paris
One of the major reasons why Disneyland chose where to build was it's ease of getting to from anywhere in Europe & beyond. With excellent travel links by Ferry, Train, Car or Plane you will Travel to DLP with ease.
Travel to DLP by Car
Disneyland Paris is perfectly situated for travelling by car. DLP is located in a large suburban area called Marne Le Vallee. It is well signposted in the area and can be driven to via the major A4 AutoRoute (highway). The closer you get using the A4 then you will start to see signs for DLP itself & there are a few exits, each which will lead you to Disneyland.
With the age of the internet well upon us it is easier than ever to find your way wit the use of Google Maps or any SatNav device. All you need to do is punch in the address below and let cyberspace be your guide :
Boulevard Du Parc
Serris
77700
France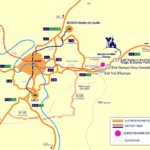 Travel to DLP from the U.K by Car
If you are travelling to Disneyland Paris by car from the U.K then you have 3 options.
1. Hire a car in France
2. Use the Eurotunnel Le Shuttle service
3. Take a Ferry
All 3 options are personal preferences and depend on budget or practicality but each are easy enough to do. Hiring a car is quite inexpensive in France and there is a Hertz station located in the Chessy train Station just 2 minutes from the main park entrance. If you prefer to take your own car then you can relax using either Ferry or Train.
Using the Eurotunnel Le Shuttle service is the fastest way to cross the channel and takes only 35 minutes to go from Folkestone to Calais. Once you land in Calais it is only around a 3 hour journey until you get to Disneyland Paris itself.
If you prefer to ferry then you can use P&O Ferries who have regular crossings. This journey takes around 90 minutes to cross to Calais and again, it will be just a short 3 hour drive to Disneyland.
If you are driving in France then please do make sure you are aware of all the French laws which will be different from your own country.

France also has Motorway tolls so be sure to carry some spare Euros although they also accept credit/debit cards.

---
Travel to DLP by Train
Travelling to Disneyland Paris by train is considered to be one of the easiest & stress-free ways to travel. There is no need for transfers once you arrive at Disneyland Paris as the train station is just a few minutes walk away to almost all onsite hotels & the shuttle station to other hotels is situated right outside the train station too. Another added benefit is being able to use the Disney Express Luggage service which means you will effectively be checked in during your train journey by a cast member on board the train & they will also tag your baggage & deliver them directly to your hotel while you go straight to the Disneyland Paris theme park for immediate fun!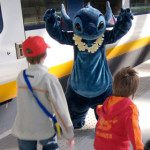 The Eurostar is available from 3 stations in the U.K with departure stations at London St. Pancras, Ebbsfleet International & Ashford International in Kent. St Pancras station in London is famous for having the longest champagne bar in Europe so why not start your journey off in elegant style!
You should book your tickets in advance as prices tend to get steep nearer the date of departure but if you book early you can get tickets starting at just £69pp. Flash sales are occasional but not certain at any time. You can also save money by booking in stages & going via connections at Lille or Paris.
The journey takes less than 3 hours from London direct to Disneyland & is very comfortable. There is a buffet car on board with drinks & snacks or even a meal if you require. This is a highly recommended way to travel to Disneyland Paris in comfort, speed & luxury.
---
Travel to DLP by Plane
For those of you who are a bit further afield from the Eurostar service then you can choose to fly to Disneyland Paris quite easily. All major airports & many regional airports in Europe now cater for flights to Paris. Paris is served by 3 airports.
Charles de Gaulle (Roissy) – 51km away
Orly – 43km away
Beauvais – 124km away
Charles de Gaulle airport is the largest airport in Paris & most likely the one you will use but there can be great value had by using a nearby airport such as Orly or Beauvais. Charles de Gaulle airport  has excellent transport links & is only 9 minutes away from Disneyland Paris using the high-speed train service called the TGV. TGV stands for "Train a Grande Vitesse" which literally translates as High Speed Train! You can also take the normal train (which is cheaper) but this will take around 40 minutes & requires a change at Paris.
Search Paris Flights for Disneyland Paris
Transfers from Airport to DLP
Most people who fly into either of these airports will book a transfer, or shuttle service, which is just a fancy name for either a bus or a taxi from the airport to your hotel & then back again for your return journey. Transfers/Shuttles come in 2 choices.
Shared – Most likely a bus or people carrier which you may share with other people also going to Disneyland Paris.
Private – A private car or people carrier exclusively for you from the airport to your hotel. These are always more expensive than a shared shuttle.
Disney offer their own Transfer service from each airport called the "Magic Shuttle" which is a bright red bus & can be booked in advance as part of your package or separately. The cost for this starts at €23pp each way €11 for children, but is a favourite of many Disneyland Paris travellers. The journey varies but is approximately 1 hour from Charles de Gaulle & Orly airports. From Beauvais airport the Magic Shuttle journey time is closer to 2 hours.
There are plenty of private transfer firms though which are also praised highly & which may well be a much cheaper & faster option than the Disney Magic Shuttle, especially if there more than 2 travelling in your party. These can be about 50% faster & a family of 2 adults/2 children would cost around €120 return for a private transfer.
If you need any advice or have any questions about your travel plans to Disneyland Paris then please feel free to comment below or contact us. We can also recommend you a reputable transfer service or give further advice on tickets or plane bookings etc