Princess for a Day Makeover
Disneyland Hotel boutique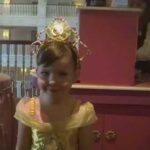 Princess for a Day Makeover Package
One of the very best experiences at Disneyland Paris is the Princess for a Day makeover package. This service is not very well known but this is probably due to DLP not advertising it very much at all, which is surprising as it is always a hit ! If your child wants something a little more swashbuckling then head over to our Pirate for a Day makeover page!
It's every little girls dream (and big girls too!) to be a Disney Princess. Well, now you can give them a gift that will give them memories which will last a lifetime! At Disneyland Hotel you can book the Princess for a Day makeover package at a very reasonable price.
Princess for a Day Details
Booking the €55-€180 princess for a day package must be done in person at the 'Galerie Mickey' shop located on the second floor of the Disneyland Hotel. It is advisable to book as soon as you can on the day you wish to receive the package. There are limited times & places each day.
You can book the premium package, which includes a premium dress, in advance by contacting the Disneyland Paris Special Activities team via email using the following address : dlp.disney.special.activities@disney.com
Four packages available:
 
€55 make-up and hairstyle
€120 make-up, hairstyle and choice of a regular dress
€180 make-up, hairstyle and one of the two prestige dress (Elsa or Cinderella)
€350 make-up, hairstyle and the Belle premium dress
Once you have your appointment time it is important that you are not late. It is advisable to arrive 15 minutes before your time for the basic package & 1 hour before your time if you have booked a package with a dress. If you are only having the basic package then of course, you can dress up your child in there own princess dress. Your little princess will then be pampered by a lady-in-waiting with a choice of princess hairstyles, make-up & of course pixie dust glitter!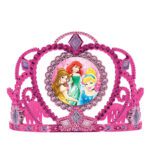 The Hairstyling & make-up will take approximately 45 minutes to complete but the pampering doesn't stop there. Once your little princess has been transformed she will then be directed to the photoshoot area where a professional photographer will take a variety of beautiful photographs in many poses to really capture the moment. At the end of the session you will be shown to the 'Gallery Mickey' boutique where you can view all of the photos.
You may choose any one of these photos for FREE as part of your package. You can also purchase additional photos (or all of them!) for a small extra cost. If you have purchased the Photopass+ already then you will be given all the photos for FREE!
These prices are correct as of January 2019 but are subject to change, however we will update here as soon as we know of any new pricing structures.
---
Princess for a Day Tips

Whatever package you choose, why not add in a princess Tiara to really finish off the look. You can bring your own or purchase one in the shop beforehand

On a budget ?  if you want a similar experience, go to one of the face painting stations located around the parks & ask for a princess theme. They will also finish it off with a sprinkle of pixie dust in the hair. You can also have the child wearing there own princess dress & tiara. For just a fraction of the cost (Between €8 & €25) you have a mini princess experience!

The experience doesn't stop there. Your little one will be showered with compliments by Cast Members throughout the day.

This experience is only open to children up to the ages of 12.

You can take your own photos during and after the makeover…. or why not video it as a keepsake?

If Princesses aren't your child's idea of fun then why not try the Pirate for a Day experience ?
---
Princess for a Day Video