Onsite Disney Themed Hotels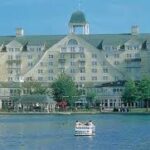 There is no doubt that staying onsite is the best option if you want to totally immerse yourself in the whole Disney experience. Disney Onsite Hotels range from budget 2* hotels all the way up to the luxurious Disneyland Hotel with it's impeccable 5* rating.
Check out our list of Disneyland Paris onsite Hotels below and check out our reviews for each one to make your decision on where to stay in Disneyland Paris.
Each review looks at important aspects such as luxury rating, distance to the parks, restaurant, board options, services such as Wi-Fi and free shuttle buses as well as practicalities such as if the staff are well educated in everything Disney, hairdryers, towels, kettles etc.
| Hotel Name | Hotel Review | Swimming Pool | Exclusive Suites | Shuttle Bus | Quality |
| --- | --- | --- | --- | --- | --- |
| Disneyland Hotel | | | | | 5* Hotel |
| Disney's Hotel New York : Art of Marvel | | | | | 4* Hotel |
| Disney's Sequoia Lodge | | | | | 3* Hotel |
| Disney's Newport Bay Hotel | | | | | 4* Hotel |
| Disney's Hotel Cheyenne | | | | | 3* Hotel |
| Disney's Hotel Santa Fe | | | | | 2* Hotel |
| Disney's Davy Crockett's Ranch | | | | | SC Lodges |
Disneyland Paris Hotels
If you have any questions or comments regarding Disneyland Paris Hotels then please feel free to email us at admin@dlptips.com and we will strive to answer any questions you have. Where you stay in DLP can be the make or break factor on whether you have a good time or a GREAT time ! Take your time and research thoroughly using our Disneyland Paris Reviews guide above and please feel free to add your own DLP review on your return home from the DLP Magic !
You can check out each review of our Disneyland Paris hotels with confidence as we are constantly updating our pages to reflect refurbishments & new additions to each hotel as soon as they happen. As we are Disneyland Paris enthusiasts we have personally been to each hotel we review and are therefore ideally placed to give honest reviews of Disneyland Paris Onsite Hotels. Even better, you can leave your own review and score which will then go towards our overall rating for each hotel meaning our reviews are dynamic and always up to date !