Disney Express Luggage Service
For those arriving via Train who are wanting the decadence of being treated like a movie star, Disneyland Paris have taken away the mundane need to check in and take your luggage to your room before you can start to enjoy the magic. Now you can head straight to the parks while the Disney staff take care of all the boring formalities !
Advanced & Priority Hotel Check-In
Park Tickets delivered to you on Train Arrival
Luggage taken straight from your train to your hotel room
On departure luggage is delivered from your hotel to the train station
 How does Disney Express Luggage Service Work ?
This service can only be used by visitors who travel to Disneyland Paris via Train.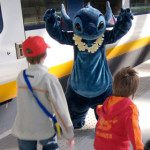 Eurostar Service
Those travelling via Eurostar will experience the highest quality of service. During the journey a Disney Cast Member will come direct to your seat and check you into your hotel whilst still travelling ! They will then explain the luggage service in full and have your park tickets ready to use immediately upon arrival.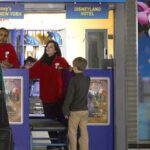 Non-Eurostar Train Service
Upon arrival at Marne Le Vallee/Chessy train station (situated at Disneyland Parks), simply head to the 1st floor where you will find the Disney Express Luggage Service counter. All you have to do is hand over your luggage and they will check you into your hotel and hand over your park tickets ready for you to use immediately.
Checking Out
Upon check-out you only need to drop off your luggage at your hotel* concierge desk before 11am. You can then enjoy your last day in the parks whilst Disney Cast Members transport your luggage for you to the Train Station. You can then pick up your luggage from the Disney Express Luggage Service counter situated on the 1st floor of the train station. The Disney Express Luggage Service counter is open every day from 8am to 9:30pm.
Disney Express Luggage Service Price
The cost of the Disney Express Luggage Service can be booked either as part of your package or as added extra if you have booked via your own travel agent or yourself. Simply call the Disneyland Paris booking line to confirm.
Adult Price – from £15 return
Child Price – FREE with a paying adult
Disney Express Luggage Service Availability
Disney Express Luggage Service is available at the hotels listed below :