Buzz Lightyear's Laser Blast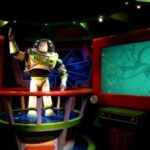 "To Infinity & Beyond!" cries Buzz as you make your way through the queueing area. This is one of the best themed queueing areas in the whole of Disneyland Paris & features a life-size Buzz Lightyear telling you your mission on the Laser Blast.
Buzz Lightyear's Laser Blast caters for all languages & if you stop to listen to Buzz you will hear the instructions in French, English or Spanish. Your mission is to defeat the evil ZURG as he plans to steal every battery on earth to power his army of robots to take over the planet. You will be an honorary Space Ranger for the day & take command of an XP-41 Space Cruiser.
XP-41 Space Cruiser
These vehicles are equipped with Laser Blasters which you are required to fire at targets throughout the 150m track & lay Zurgs plans to rest. You can spin your Space Cruiser in any direction along the track in an effort to shoot as many targets as you can. On the Space Cruiser's dashboard you will see your score as you progress through the Gamma Quadrant seeking out Zurg & his robot army.
Star Command High Scores
0 to 1,000 : Star Cadet
1,001 to 10,000 : Space Ace
10,001 to 100,000 : Planetary Pilot
100,001 to 300,000 : Space Scout
300,001 to 600,000 : 1st Class Ranger
600,001 to 999,999 : Cosmic Commando
999,999+ : Galactic Hero
There are 88 separate targets to hit  on Buzz Lightyear Laser blast with different scores for each one. This is a great ride for kids & adults who like a small competition. The ride has a fastpass system in place as this is one of the most popular attractions with large queues frequent.
Each XP-41 Space Cruiser seats 2 people at a time although you are free to ride alone if you choose. The ride lasts around 5 minutes and is completely indoors. You are immersed with Toy Story theming throughout the indoor queueing area & on the ride itself.
If you have a Toy Story loving kid then this is a must do ride. When you enter the final scene and are confronted with the life size version of Zurg to shoot at there will be an on-ride photo system taking a snapshot of your mission. You can purchase these after you exit in the attached shop.
---
Buzz Lightyear Laser Blast Tips

Aim for Triangle & Diamond targets to maximise your score

This ride frequently stops while you are on board so keep on shooting if this happens & build up your score!

Be trigger happy. You can score multiple times on the same target so keep that itchy trigger finger moving

There is only one controller to spin the vehicle so plan ahead who will be in control

Be careful on entry as the moving platform can be tricky for very young or infirm riders

On Zurg there is a very small target worth 50,000 points a hit! Master this target & you will be a Galactic Hero

Riders must be over 102cm to play Buzz Lightyear Laser Blast

---

Buzz Lightyear's Laser Blast video