Where can i Meet Disney Characters at Disneyland Paris?
There are 4 ways in which you can meet Disney characters at Disneyland Paris.
Random encounters as they walk through the parks & stop at certain points for an impromptu MEET 'N' GREET photo opportunity
Scheduled MEET 'N' GREET opportunities which are known in advance & printed on the weekly Park Schedule
Book a Character dining experience where you can sit down, enjoy a meal & relax as many Disney Characters come to each table in the restaurant to interact, sign autographs or have Photos.
During Parades you can see many of the characters. They often approach the crowd but this is not to stop & pose for photos or autographs.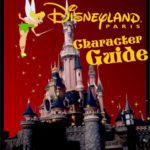 There is nothing more magical than being able to meet Disney characters from your favourite Disney movie. At Disneyland Paris they have been less likely to appear than at other parks throughout the world but this all changed in 2016 when the amount & frequency of Characters has been increased hugely in all areas.
Characters who were only seen very rarely are now seen much more regularly & the most popular are out in force every day. The schedule changes every week although there are regular "Meet 'N' Greet" areas which last all season where you can queue up to guaranteed to spend some time with the character & also grab an all important photograph to memorialise the occasion.
Character dining at Disneyland Paris
The best way to be certain of meeting Disney characters (especially princesses) is by booking a Character Dining experience. The times may vary below but here are examples of usual openings. You can check your park guides for more detail on your visit or call Disneyland Paris reservations.
Value Experience 
Café Mickey – Disney Village : Breakfast (7:30-10am), Lunch (12-3pm) & Dinner (6pm-11pm)
Plaza Gardens – Disney Village : Breakfast (7:30-10am)
Moderate Experience 
Inventions – Disneyland Hotel : Lunch (12:30-3pm) & Dinner (6pm-10:30pm) 
Deluxe experience 
Auberge de Cendrillon – Fantasyland : Opening times vary during the seasons but typically open Lunchtimes.
You can book these experiences up to 60 days in advance by calling +33 (0) 1 60 30 40 50. This is a French number but the staff are bilingual. You can also book when you arrive by asking your hotel concierge, going to the restaurant itself or by visiting Town Hall in Disneyland Park.
Meet 'N' Greet at Disneyland Paris
The next best chance to see your favourite characters are at scheduled Meet 'N' Greet areas throughout Disneyland Park, Disney Village, Disney Hotels & Walt Disney Studios.
You can check in to town Hall (Disneyland Park) or Studio Services (Walt Disney Studios) & ask the Cast Members which characters will be out.
They will be more than happy to let you know. The other way is to pick up a Park Guide at the entrance of the parks which shows detailed information for the whole week of who will be where & when.
Which Characters can I meet at Disneyland Paris?
With new movies being released it is also worth noting that the amount of Disney Characters is also rising each year. The schedule of characters can also depend upon the season. For example, during Halloween Season you will have the opportunity to meet the Disney Villains such as Cruela De Vil, Gaston, Jack Skellington or the Snow Queen. These characters are generally not seen at any other time of the year. You also have new characters appearing every time a new Disney movie appears withy characters such as Judy Hopps & Nick Wild from Zootopia or Baymax from Big Hero 6 being known to attend the park.  This makes it extremely difficult to keep an up to date list of all the characters at Disneyland Paris you may see at any given time.
There are of course Disney Characters which are almost certain to be there, all the time, throughout the year. Mickey Mouse, Minnie Mouse, Donald Duck, Goofy, Pluto, Chip 'n' Dale, Captain Hook, Winnie The Pooh, Eeyore, Tigger, Buzz Lightyear, Woody, Jessie, Gepetto, Jafar, Mary Poppins, Pinocchio, Spiderman & of course not to forget ALL of the Disney Princesses !!