Disneyland Paris Shows, Parades & Fireworks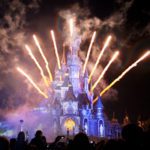 Disney Illuminations
The Disney Illuminations night-time spectacular is famed as THE BEST closing ceremony of any Disney Park, anywhere in the world. The show itself lasts approximately 20 minutes & runs every night after the park closes. This is the main event of the DLP Shows & Parades.
It's FREE to watch for all & features fireworks, state of the art illuminations on the castle itself & uses brilliant techniques incorporating the water fountains & musical effects to fully immerse you into a spectacular night time show which is second to none. CLICK HERE to read our Disney Illuminations full article.
---
DLP Shows & Parades
Disneyland Paris, as with all Disney parks throughout the world, has some breath-taking parades full of character interaction, music & amazing floats to admire. Parades are a regular feature in both Walt Disney Studios & the main Disneyland Park. The parades happen throughout the day with extra special parades at seasonal times such as Halloween & Christmas. Disney also put on a special celebration parade during their 30th anniversary celebrations which runs from March 2021 until Summer 2022. With the massive insvestments meaning we will see 3 brand new lands opened up in Walt Disney Studios, this is an exciting time for Disneyland Paris. In the next few years we will see Marvel Land, Star Wars land & of course Frozen Land coming to life!
You can see the times & locations of each parade by picking up a park map at the entrance to the parks each day so you can plan your days in advance.
---