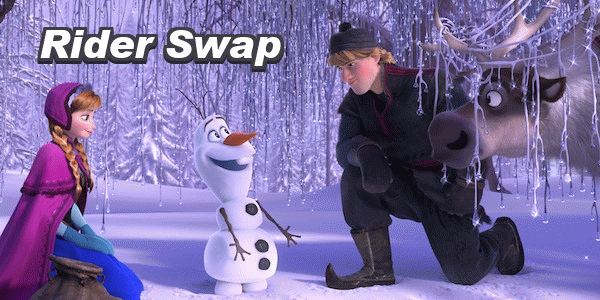 When one of your party doesn't want to ride
Rider Swap at Disneyland Paris
Disneyland is a world of wonder for all ages and all tastes, however, not everyone will enjoy every ride. In fact, due to height restrictions or medical conditions there may be some rides which are a no-go for certain people. For example, you couldn't take a baby onto Tower of Terror, which can be a problem when both mum & dad want to ride. Disney of course wants everyone to have the fullest experience possible and so they have come up with the rider swap solution. It is also known as Rider Switch, Baby Switch or Baby Swap, but of course it's not just for people with babies !
What is Rider swap?
Rider Swap basically cuts out the need for people to queue more than once when one or more people in the group do not, or can not, use the ride. Perhaps you have a young child who doesn't like rollercoasters but both mum & dad want to ride ? Obviously you wouldn't want to go on the ride and leave your child alone where they might wander off somewhere so Rider Swap allows you to queue once & then both mum and dad can have alternate shots on the ride while one stays to look after the child.
How does Rider Swap at Disneyland Paris work?
The first thing you need to do is ask the Cast Member at the entrance of the ride you have chosen. He will then instruct you if Rider Swap is available and where to go. In most cases you will be instructed that one of you joins the queue while the other takes the child (or non-riding member) to an area at the end of the ride. Once the first person has finished the ride they will swap with the person at the end of the ride so that they too can ride without having to queue for a second time.
Alternatives to Rider swap
Of course, sometimes even the best laid plans won't work. You may have a young child who really wants to ride, but due to height restrictions is unable to. Sometimes kids have a habit of being very vocal and challenging especially if they feel they are "missing out" on something that mum & dad are doing and they are right there at the ride!
For instances such as these it may be better for each adult to use the single rider lines. These queues are usually much shorter than the regular queues and instead of waiting with the child at the ride exit you will be able to wait anywhere in the park until the first adult has his ride and then adult 2 can go join the single rider queue without letting the child know and upset themselves.
What are the ride restrictions?
You can ask the Cast Member at the entrance to rides if there are any restrictions or check out our handy RIDE RESTRICTIONS page before you go and plan your trip. Rides which are popular with the Rider Swap service include Indiana Jones, Space Mountain, Big Thunder Mountain, Tower of Terror, RC Racer & Crush's Coaster.