RC Racer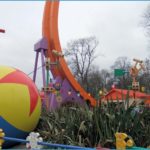 RC Racer is an amazing thrill ride situated in the Walt Disney Studios park at Disneyland Paris.
As this attraction is a pretty intense half-pipe reaching heights of up to 80 feet, there is a height restriction which requires any riders to be at least 120cm tall to ride. the ride itself is inspired by the Mattel range of Hotwheels toy cars as featured in the film Toy Story. It is no surprise then to see RC Racer ride in the Toy Story Playland area of the Studios.
Just like in the Toy Story movie, the ride itself is a replica of the RC Racer vehicle toy & the famous Mattel orange race track. The RC Racer car can hold up to 20 passengers in 5 rows of 4 guests. Due to the safety restraints (over the shoulder plus seat belt between legs) you should check with a CM if you are above average weight or height. The RC Racer vehicle propels guests backwards & forwards on the half pipe track for 3 or 4 very swift motions. Due to the intensity of the ride it is not recommended for those with medical issues such as bad backs, necks or even pregnant women.
RC Racer Theming
RC Racer has some of the best theming you could wish for as you are shrunk down to the size of a small toy in Toy Story Land. The queue line sees you walk along a long "Scalextrix" style walkway as you race to the ride. We see many themed props all along the queue line such as tyres, miniature trees, a garage, road signs & car stickers. This is a welcome distraction as wait times on this ride can be high and up to 2 hours at peak times due to the low throughput. There is a single rider line to help people beat the queues. When you board the ride you will get a great view of the area and the "scalextrix" track below really makes you feel as if you are flying way above the parks.
---
RC Racer Tips

Try to ride as soon as the park opens or just before closing to get the lowest queue times.

If you are not afraid of heights and want the biggest buzz then try to sit in the rear of the vehicle.
---
RC Racer Video