Toy Story Parachute Drop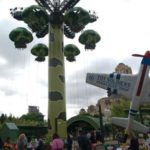 The Toy Story Parachute Drop is a family drop tower ride situated in the Walt Disney Studios park at Disneyland Paris.
Towering 80 feet above Toy Story Playland is this incredibly fun drop tower. Any of you who have seen the Toy Story movie will no doubt remember the scene where the Green Army Soldiers parachute down the stairs & between the bannisters to go and inspect Andy's birthday presents & we then meet Buzz for the 1st time. Well, now you have been recruited to join the Green Army Soldiers & parachute down with them!
Although this ride can sound (and look) intimidating, it is actually one of the most loved rides for kids. The minimum height to ride is set at just 81cm which is the size of an average toddler. You are seated in a row of 3 with a bar over your legs along with a seatbelt for extra security. There must be at least one adult per row.
Once you are seated on your parachute you will begin to climb the tower slowly. There is a pause at the top whilst you admire the stunning views of Walt Disney Studios and beyond before dropping back down. This happens a total of 3 times with iconic "Go! Go! Go!" from the Army Captain signalling the last drop.
The whole ride only lasts for 60 seconds but you really will feel a small burst of butterflies in your stomach at the start of the drop. This is regarded by many as the first stepping stone for kids before they brave the magnificent Tower of Terror later in life.
Toy Story Parachutes Theming
The theming of Toy Story Parachutes is sublime. From full sized Green Army toy soldiers & a scaled down Aeroplane at the entrance. There is a watch tower, larger than life Playskool walkie talkie & a full army base to admire as queue for the ride. There is also a fun instructional video in different languages to watch at different points of the queue to keep the kids amused.
---
Toy Story Parachute Drop Tips

Toy Story Parachute Drop features a "single rider" queue which anyone can join as long as they don't mind who they will be sat beside. This can cut wait times dramatically.

Whilst you are in the queue it is a good idea to try and see which parachute you would like to board. Depending on which one you choose will decide which view you will have at the top. You may choose whichever parachute you like as long as others don't beat you to it!

Adults riding with children should sit in the middle of the row with children on the outside.

Due to the popularity, this ride can have long queue times. Try to ride at the start of the day or when there is a parade on……. you can view the parade from high up in the air!
---
Toy Story Parachute Drop Video
---