Disneyland Paris Internet & Wi-Fi Areas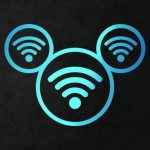 The need for Internet & Wi-Fi Areas has become a modern day necessity for many people. When you visit Disneyland Paris you will be immersed in a world of imagination, carefree days & No Worries (or Hakuna Matata as we like to say). From the moment you arrive you will forget your world at home and all the stresses of work and enjoy every moment. Of course, these days we are never really on our own with world at your fingertips thanks to the internet. It's nice to share the magic you are experiencing too by updating your facebook, posting pictures to twitter or just generally letting people know you are having a great time.
Disneyland Paris knows the importance and power of online social media and so they have spent a huge amount of time and money in ensuring that they offer the best service to all visitors. They aren't quite all the way there yet but it is an ongoing process. As you can imagine, Disneyland Paris is a massive area and so a lot of planning and execution has to go into any park wide improvements.
Disney Onsite Hotels Internet & Wi-Fi Areas
You can also request wired internet access at all hotels for a small surcharge. This is especially handy for the hotels which do not have full room coverage such as the Cheyenne, Santa Fe & Crockett's Ranch. Disney Partner Hotels also offer Free Wi-Fi as standard. These include Magic Circus, Kyriad, Dream Castle & Explorers Hotel.
Theme Park & Disney Village Internet & Wi-Fi Areas
Of course, there's nothing better than instantly uploading that special photo as soon as you take it, but unfortunately there is no Internet & Wi-Fi Areas in the main parks as of yet. With such a huge area to cover it will take some time before Disneyland Paris is fully connected to the Wireless world but Disneyland Paris is planning to start offering Wi-Fi throughout the parks at the end of 2016/beginning of 2017. The closest area to the Disneyland Park would be Disneyland Hotel which offers free wi-fi. In fact there is a small bench just outside the Hotels front doors which you can pick up the Wireless signal without even going in to the hotel itself.
In Disney Village you can of course connect to the McDonalds free Wi-Fi service although this can be quite slow as there are lots of users in a very small area ! Thankfully Disney have started rolling out Wi-Fi in the Village eateries & bars and you can now find Internet access at the following areas :
Buffalo Bill's WWS
Sports Bar (again this can be a slow connection)
The Steakhouse
Billy Bobs at La Grange
3G & 4G internet roaming access at Disneyland Paris
You will be pleased to hear that the reception throughout the whole of Disneyland Paris is excellent. Please check with your supplier what the costs are for international roaming before using this service as you don't want to face any unexpected lerge bills on your return from the magic !