Disneyland Paris Annual Events 2022
St David's Festival : TBC March 2024
St Patrick's Festival : 17th March 2024
Bastille Day fireworks : 14th July 2023
Halloween Season 2023 : 1st October – 5th November
Halloween Party :  ( Book HERE)
Magical Fireworks & Bonfire : 6th & 8th November 2023
Christmas Season : 11th November 2023 – 7th January 2024
Magic Over Disney : 17th, 22nd & 24th January 2024
New Years Eve Celebrations :  ( Book HERE)
During all of the above events you can find extra special celebration events taking place throughout Disneyland Paris. On St Patricks Day you can get your face painted with a shamrock & the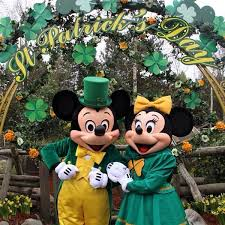 Castle will be a gorgeous green colour! There are also special fireworks displays which differ slightly from the normal Disney Illuminations show at the end of the night.
Bastille day is extremely popular as this is the French version of July 4th in which they have national celebrations. If you are visiting during Halloween then please note that the park closes at approximately 8pm & to get back in for the Halloween celebrations party you will need to purchase a special ticket in advance to attend.
The Walt Disney studios used to have a "Horror Night" for adults only but this hasn't been done for a few years despite plenty of interest from Disney fans who loved the chance to have a terrorific time at Disney.