Disneyland Paris Toilet Areas
Disneyland Paris Toilets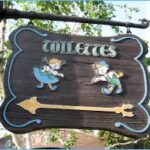 Even something as mundane as Toilets is given a little sprinkling of magic. Instead of having generic Male & Female signs, you will be met with a themed picture on your toilet entrance dependant on which area of the park you are in.
For example, when you are in the German themed "Pinocchio restaurant" and visit the toilets you will see a picture of either a boy or girl dressed in traditional German outfits to help you decide where to go !
There are many toilet facilities in all Disneyland areas and you are never far away from any of them wherever you are in Disneyland Paris.
Walt Disney Studios Toilets Map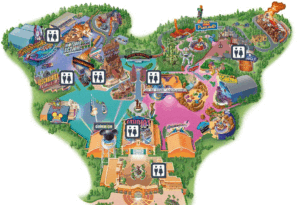 Walt Disney Studios Toilet Locations
There are 7 Toilet areas in Walt Disney Studios at Disneyland Paris. The picture above shows there location and if you are not too good at reading maps then they can be located here :
Front Lot, opposite the Fantasia Statues of Mickey & Cleaning Mops.
Disney Studio 1, at end of walkway on left hand side before leaving building.
Next to Tower of Terror ride & Gift Shop
In Place de Remy near the Ratatouille ride itself.
Inside the Moteurs : Stunt Show. (this is only accessible to visitors during showtimes)
At Hollywood Boulevard near the walkway between Tram Tours & Toy Story Playland
Production Courtyard next to Restaurant Des Stars
All facilities are well located and there are signs throughout the area directing you to your nearest Toilet area.
 Disneyland Park Toilets Map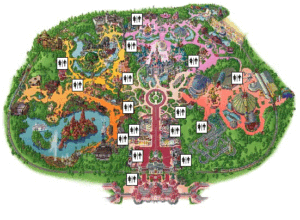 Disneyland Park Toilet Locations
The main Disneyland Park has 16 toilet areas which are open to all visitors. Again, you are never far away and shouldn't be caught too short ! If you can't understand the map then below we have listed them by location :
At the Park Exits
Next to City Hall
Directly opposite City Hall beside Stroller & Wheelchair rental
Inside Liberty Arcade
Inside Discovery Arcade
To the left of Plaza Gardens near the First Aid Centre
Inside Videopolis
Beside Pizzeria Bella Notte restaurant
Beside Toad Hall restaurant
Next to Chalet de la Marionette
Beside Phantom Manor
On right hand side as you enter Frontierland Gates
Beside Agrabah Café

Beside Colonel Hathi's Pizza restaurant

Opposite Big Thunder Mountain Fastpass entrance
Beside Autopia exit area
Disneyland Paris toilets are well maintained throughout the day and generally very clean and tidy areas. Most of the toilets also include a Baby Changing area in both the Men & Women's toilet areas & disabled access is provided. All Disney Hotels of course also have toilet facilities & if you have left the park then don't be concerned as there are toilets also in the train station & also in Disney Village.
 DLP Tips

If you are caught short and need to ask someone (perhaps a Cast Member) of where the nearest toilets are then you should use the phrase : Excusez-Moi. Où sont les toilettes?

Toilet Areas are also usually close to water fountains so you can have a drink of water. This is especially handy on hot days.