Disneyland Paris Avengers Campus £137 pppn*
Avengers : Assemble!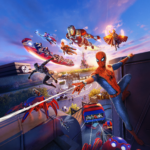 Disneyland Paris has always been a popular destination for families seeking adventure and excitement, and with the recent addition of Marvel Avengers Campus, there's now even more to explore. Disneyland Paris are also currently celebrating their 30th Anniversary with so much to see and do this year is a great time to book your Hotel & Tickets package with Disneyland Paris.
This new land is dedicated to Marvel's Avengers, and it offers a range of thrilling attractions, immersive experiences, and interactive entertainment that are sure to delight fans of all ages.
The Avengers Campus is located in Walt Disney Studios Park, which is just 2 minutes walk from Disneyland Park. This means that visitors can easily explore both parks and experience all of the magic that Disneyland Paris has to offer. The Avengers Campus is designed to look and feel like a high-tech training facility for the Avengers, and it's filled with cutting-edge technology, impressive architecture.
Avengers Campus Attractions
One of the standout attractions in Marvel Avengers Campus is the brand-new attraction, Web Slingers: A Spider-Man W.E.B. Adventure. This attraction takes guests on a thrilling journey through a series of interactive environments, where they can sling webs just like Spider-Man himself. Using special technology, the attraction tracks the movements of riders' hands, allowing them to shoot webs and defeat the Spider-Bots along the way.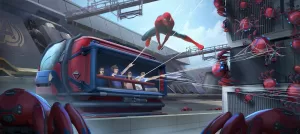 Another popular attraction in the Avengers Campus is Avengers Assemble : Flight Force. This thrilling attraction will see you join Iron Man and Captain Marvel in a special pre-show to be given the details of a high speed mission where the Avengers need your help!
In addition to the attractions, Marvel Avengers Campus also features a range of interactive experiences, such as the Guardians of the Galaxy: Dance Challenge  and much more.
There are also plenty of opportunities for guests to meet and interact with their favourite Marvel characters. From Spider-Man and Captain America to Black Widow and Iron Man, visitors will have the chance to snap photos and show the Avengers their favourite mighty moves.
Avengers Campus Dining
There are plenty of dining options for guests to re-fuel before their heroic missions. Guests can grab a bite to eat at the Pym Kitchen, where they use 'shrinking and growing' particle technology, inspired by Ant-Man and The Wasp. There's also Stark Factory quick service restaurant which features a life size model of the Iron Man Hulkbuster! That's sure to give you a super heroes appetite!
Overall, the Avengers Campus is a must-visit destination for anyone who loves Marvel and the Disney Parks. With its exciting attractions, immersive experiences, and interactive entertainment, it offers a truly unique and unforgettable experience that is sure to thrill visitors of all ages. So, whether you're a die-hard fan or just looking for some family fun, be sure to add the Avengers Campus to your Disneyland Paris itinerary.
You can visit Disneyland Paris this year and visit Avengers Campus as well as seeing all of the magical celebrations going on for the 30th Anniversary.
Enjoy a thrilling Summer break :
£137 per person & per night based on 2 adults & 2 children (ages 3-11 )
Disney Davy Crockett Ranch
Pioneer Cabin
4 Days of Park Tickets
Extra Magic Time
Free Parking at your hotel and Disney Parks
Arrivals from July 22 to Sept 1
Pay in Installments with ZERO Fees
*Average price calculated by dividing the package price of £1,632.28 by 4 people (2 adults + 2 kids aged 3-11 years old) and 3 nights. Price rounded up to the next pound. Arrivals between 22nd July and 1st September 2023 sharing a Pioneer Cabin at Disney Davy Crockett Ranch. Price example subject to change depending on time of booking. Subject to availability. Conditions apply.