Luke's Disneyland Paris Snacks report 2023
Disneyland Paris Snacks
We have just returned from our 7 night stay at
Disneyland Paris
and one of my goals was to try as many of the Disneyland Paris snacks as possible. I noticed this was one topic that isn't discussed as much so I wanted to give my reviews on the many snacks we tried with pictures to go with them.
Mini pancakes (Poffertjes)
These sweet treats can be found at the Old Mill snack stand in Fantasyland. These were €6 for 12 and you had a choice of Nutella or sugar topping. They were hot, light and fluffy and the whole family loved them. We would definitely recommend 8/10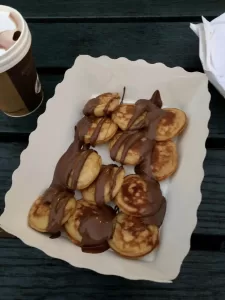 Cheese balls (Bitterballen)
Also located in the Old Mill snack stand in Fantasyland. I cant remember the price for these but i think they were around €6 and you got 6 of them. OMG! These are the nicest cheese balls I've ever had, cheesy and almost so melted it was saucy, crispy and light, anyone who loves cheese will love these. These Dutch dipping balls come filled with either Beef or Cheese. Both are accompanied with a choice of mustard, ketchup or mayo. 10/10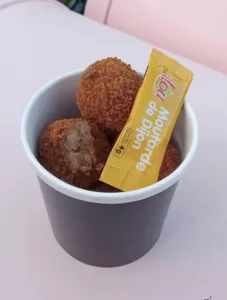 BBQ Turkey Leg
The Turkey Legs can be purchased at The Last Chance Saloon in Frontierland. This was top of my to try list after reading all the hype about these. The cost was €9 each.
This definitely met the hype, it had a very strong BBQ taste on the skin and the meat was so smoked it had a ham taste to it. The meat was tender, not dry at all and literally fell off the bone 10/10
Pineapple Dole Whip
This delicious ice cream is located at Café de la Brousse in Adventureland. I have to say this was amazing! I would describe it as a pineapple flavoured sorbet version of a Mr Whippy ice cream covered in pineapple sauce. These were soft but icy at the same time, perfect for a hot day and not sickly at all. 9/10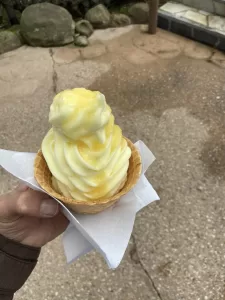 Churros
Churros can usually be bought at Fuente del Oro Restaurant but it was currently closed so we had to go to the snack stand in Disney Village.
€5 for 3 or €7 for 5 & €1 extra for Nutella. These were really decent. Sadly not freshly cooked but warmed up on order yet they still tasted fresh. 7.5/10
Disney Macarons
Delicious Macarons were available at Broadwalk Candy Palace on Main Street U.S.A. There were 6 different flavours each with there own pictures costing
€2 each.
I tried the Minnie raspberry and the castle salted caramel butter. I thought the raspberry was really nice and filled with raspberry jam
7/10
The salted caramel butter was amazing!! Thick layer of filling
10/10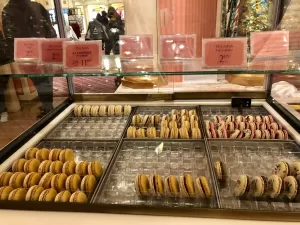 Mini Mickey Waffles
Located at a snack stand in Adventureland near Indiana Jones. The price of these sweet treats was €5 for three. You have a choice of Nutella or cream topping with decorative marshmallows and chocolate castle picture. These were precooked but heated in a waffle iron on order. If I hadn't seen them get the premade waffle from the bag I would of thought they were freshly cooked, they were really nice and a huge hit with the family. 8.5/10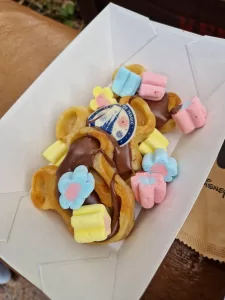 Star wars Waffles
We found these novelty Waffles at the food stand behind
Hyperspace Mountain
. They cost
€5 each
with a choice of sugar or Nutella. These were freshly made on order and we watched the man pour fresh batter into the waffle iron. We agreed these were really good! We definitely recommend
9.5/10
Corn dog
We purchased these at the snack stand next to buzz lightyear meet and greet in Walt Disney studios.  These were €8 each. It was nice and i am glad I tried it. The batter was really nice but the beef hot dog was a bit strange. It had a really crunchy texture, not like your typical snappy feeling hot dog but crunchy to bite through. The flavour was nice but the texture just wasn't for me. They came with a choice of ketchup, mustard or BBQ sauce topping 6/10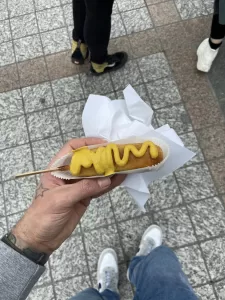 Disney Popcorn
Last but not least was the famous Disney popcorn (located everywhere
). These come as part of a deal costing
€6.50 individually or €8 with a drink included
. You could also choose souvenir options for an extra charge. You can't walk anywhere in Disney without smelling the freshly made warm popcorn. We always go for the sweet version as this is our favourite snack. Its literally just sweet popcorn but there's something magical about walking around Disneyland Paris or watching the parade with your warm Disney popcorn. I don't know what it is but it wouldn't feel right if you didn't get your popcorn! We must have had about 5 to 6 boxes on our holiday
11/10!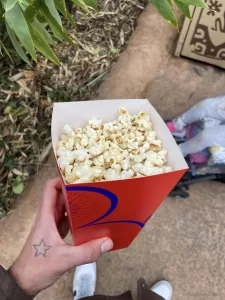 There were a few more Disneyland Paris snacks I would have liked to try but I was so full from all the snacks and our meals