Free Drinks perk for Onsite Guests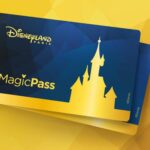 Everybody loves getting a good deal and who could say no to free drinks?!
It's a little known fact, and not publicised at all, that any guests (over 3 yrs old) who book a stay at any of the Disneyland Paris onsite hotels can receive a varied selection of free drinks every night of their stay.
How do I get my free drinks?
Claiming your free drinks is very easy. In fact, you don't have to do anything as they come with your booking. Upon check-in to your hotel you will be given a hotel "Magic Pass" for each guest on the booking. The Magic Pass acts as your room key, park tickets, charging card but also carries extra information on your booking such as meal plans. Here's the best part, you will automatically have 1 free drink loaded on to each Magic Pass per night of your stay. Now, officially it should be 1 drink per night per person but we have always had 4 drinks, per person, per night on our cards every visit!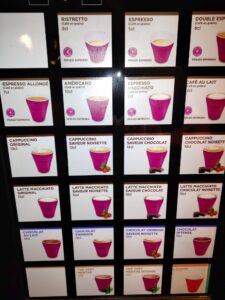 Where do I claim my free drinks?
Claiming your drinks is also easy. Each Disney Hotel has drink vending machines located throughout the hotel. On arrival you will be given a welcome folder in your room with a map of the hotel which should show the locations of ice machines, laundry rooms & drinks vending machines. It's like a normal vending machine except instead of putting coins in you scan your card on the right hand side. It is quite easy to spot where. One tip… put your sugar choice in before you choose your drink as it doesn't work other way around!
As you can see from the image above there are a varied selection of hot drinks available and are a very welcome benefit especially on returning to your room in the evening when it might be a bit chilly. We also loved getting one in the morning for a short walk to the parks to start our day off nicely. Which drinks will you choose?