Space Mountain Mission 2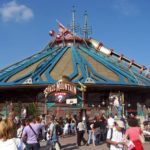 Space Mountain Mission 2 is situated in Discoveryland area of Disneyland Paris. This is an iconic building which dominates the whole of Discoveryland. Space Mountain Mission 2 is a part indoor, part outdoor steel rollercoaster based on Jules Verne's classic 1865 novel "From The Earth To The Moon".
Unlike other versions around the world, the Disneyland Paris version of Space Mountain Mission 2 is the only one to feature inversions & a portion of track outside the building. This was also the very first rollercoaster to feature a synchronised on-ride audio soundtrack. Space Mountain Mission 2 at DLP is also the fastest of all versions & has a 1.5G uphill launch  at a 32° angle which reaches 40mph before taking you through the ride featuring 3 inversions (a corkscrew, a cutback & a sidewinder).
The launch itself actually occurs in the "Colombiad Cannon" (36 metres long) which is perched outside of the mountain itself with special lighting & smoke effects. Passengers are then propelled through space dodging asteroids, comets & planets along the way. There are flashing lights & a "wormhole" to traverse before passing by the final destination of the moon & returning home to safety.
Space Mountain Mission 2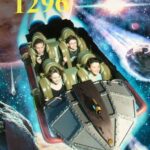 You can claim a souvenir of your journey into space by purchasing an on-ride photo which is take at the very beginning of the ride just before you reach the Colombiad Cannon launch area. Once you have finished your ride turn left at the exit & you can visit Light Speed Photography to choose your photo.
The ride features fastpass tickets & is regularly seeing long queue times. At night time Space Mountain Mission 2 is a sight to behold as the building is lit up in neon lights. It truly is an amazing spectacle offering some great opportunities for pictures to remember your trip.
---
Space Mountain Mission 2 Tips

UseExtra Magic Hours & Fastpass to minimise your wait times. During EMH you may be able to ride multiple times if you are quick!

If you want an extra thrill then try to look left as you launch up the Colombiad Cannon to get a view of Discoveryland through the opening hatches!

Even after a lengthy refurbishment there is still a chance of hitting your head with the sheer power & movement of this ride. Keep your head pressed back in the headrest for comfort & to limit movement.

If you have any form of back pain, neck problems, heart issues etc. or are pregnant then please do not attempt to ride.

Due to the thrill of this ride you must be over 132cm to journey into space!

The ride lasts 2m 10secs.

There is a single rider queue which you can use if you don't mind sitting beside a stranger & this can drastically reduce waiting times.
---
Space Mountain Mission 2 Video