Disneyland Paris 30th Anniversary Grand Finale
Disneyland Paris invites you to share in the unforgettable experience of the 30th Anniversary celebrations. This year promises to be spectacular as see the first Marvel drone show played daily in a Disney Park.
We welcome the return of the iconic Disney Dreams®! night-time wonderland, a new exclusive show based on Pixar stories, and many other surprises to make this an incredible Grand Finale. Celebrations not to be missed!
Now is the perfect time to Book a Disneyland Paris visit in a year unlike any other with festivities, new attractions, world class shows & of course the 30th Anniversary Grand Finale celebrations closing on September 30th 2023.
Avengers : Power The Night
Following on from the openings of Marvel Avengers Campus and the Disney Hotel New York : The Art of Marvel, visitors will be thrilled with a brand new Marvel experience: "Avengers: Power the Night".
This epic night-time show will bring together lights, sounds, fireworks and an incredible drone show dedicated to the Marvel Universe. Projections will be beamed onto the Tower of Terror giving visitors a spectacular visual treat. This world first show in Disney Parks will be available to guests every evening in Walt Disney studios Park from January 28th until May 8th 2023.
As many as 500 drones will perform an incredible choreography featuring the powers of iconic Super Heroes such as Captain America, Captain Marvel, Scarlet Witch or Shang-Chi, for the very first time at Disneyland Paris.
You will also be immersed with music from your favourite Marvel movies soundtracks. With Marvel Avengers Campus, Disney Hotel New York® – The Art of Marvel, and "Avengers: Power the Night", Disneyland Paris is the ULTIMATE destination in Europe for Marvel fans wishing to live an immersive experience alongside their Super Heroes favourites.
Disney Dreams
Another addition to the 30th Anniversary Grand Finale sees the return of the incredible night-time evening show "Disney Dreams!" at Sleeping Beauty Castle.
This year is the perfect opportunity for fans to rediscover this unique creation, and for new generations to discover this iconic show. Starting on April 12th 2023 at Disneyland Park, guests will not only be treated to the "Disney D-Light" drone show but also the "Disney Dreams!" musical and visual spectacular.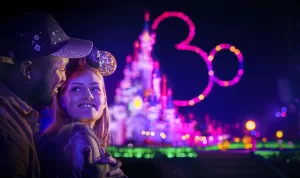 This iconic night show was created in 2012 using cutting-edge technology, sublime projections, spectacular laser effects and water jets with sensational pyrotechnic effects for a true explosion of colours. You can witness Sleeping Beauty Castle be visually transformed as its turrets seem to turn and its walls undulate. For 2023 we see the show being even more spectacular with innovative technology making the castle come alive to the sounds of the accompanying music.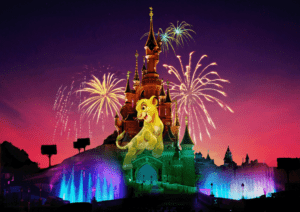 Let Peter Pan & Tinkerbell take you on a journey through some of the most beautiful Disney stories to the rhythm of iconic music. Beautiful heart-warming music from Beauty and the Beast to the Hunchback of Notre Dame, Lion King, Rapunzel, Ratatouille and many more, in an adventure beyond the limits of imagination.
"PIXAR: WE BELONG TOGETHER" – from summer 2023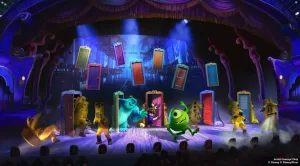 From summer 2023, visitors to Walt Disney Studios Park will be able to discover a new show at the Studio Theatre provisionally called "Pixar: We Belong Together".
Guests will be invited to take part in a musical adventure with their favourite Pixar characters. from a range of iconic Pixar movies.
This new show will illustrate how music and friendship bring us together, and combines innovative stage technologies, light effects, choreography and, of course, the emblematic music we all love from the Pixar animation studio.
It's a Small World Re-opening
The Worlds happiest cruise invites you to board the It's a Small World attraction after a recent refurbishment.
With the re-opening set for Spring 2023 this must-see family attraction has been nestled in the heart of Fantasyland since the opening of Disneyland Paris in 1992. Young and old alike are welcomed for a wonderful world tour to the tune of one of the most iconic Disney Parks songs. You will be happily singing this song long after you have departed!
New Shopping & Fashion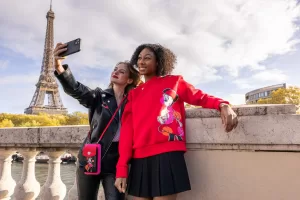 As well as the 30th Anniversary celebrations merchandise which has been on offer since 2022, a brand new 2023 Grand Finale range will soon be available to all visitors. These new products will be inspired by the show "Let's dream… and the world lights up!" and colour themed to match with exclusive unisex ready-to-wear pieces and exclusive matching accessories.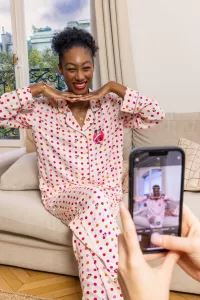 The "Minnie Paris" range will be available in different fun and sparkling products in the image of Minnie, including various ready-to-wear pieces, typically Parisian fashion accessories such as berets or even brightly coloured tableware. Something for everyone!
Delicious Dining Experiences
The Grand Finale of the 30th Anniversary of Disneyland Paris will mark the return of princely breakfasts in the spring at the Auberge de Cendrillon restaurant. You can feel like royalty dining in the company of the Disney Princesses. Our knowledgeable chefs will offer multiple menus to choose from, including an entirely vegan offering with, in particular, a pudding of chia seeds, coconut and mango or scrambled tofu with turmeric and onions. Other modern and innovative dining options the chefs are preparing in the kitchen will soon be unveiled!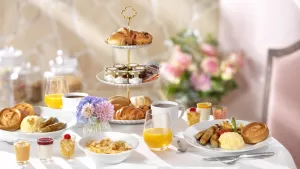 Disneyland Paris are also transforming Disney Village to be a much more modern and welcoming area with new dining and shopping experiences.
The transformation begins as we bid farewell to King Ludwig's Castle as we see it transformed into The Royal Pub serving the best of British cuisine.
On the menu are breakfasts served at any time, traditional fish and chips, Guinness braised beef and a wide choice of craft beers, all served in a warm and lively atmosphere. Disney Village will also host the Rosalie restaurant, a traditional French brasserie, which will open its doors at the end of 2023.  So many delicious experiences to choose from!
Dream Bigger, Laugh Louder & Smile Wider than ever…
Of course all of the above is in addition to all the festivities which are already running now for the 30th Anniversary celebrations at Disneyland Paris. You can read our previous article showing all of the exclusive shows, dining, merchandising and celebrations currently on every day in Disneyland Paris. This year is your last chance to see the 30th Anniversary celebrations and you only have until September 30th 2023 to see this spectacular event.
A Perfect Package
FAMILY STAY for £137 pppn*
2 Adults and 2 Children
Accommodation at Disney Davy Crockett Ranch
Free parking at Disney Davy Crockett Ranch, only a 15-minute drive from the parks!
4 day park tickets included
Access to both Disney Parks
Free Parking at Disneyland Paris
No booking fees
Extra Magic Time before the parks open to the public
You can check prices for all hotel & ticket packages to plan your own amazing experience now. Magical memories await all guests this year as we see Disneyland Paris celebrate the 30th Anniversary celebrations closing on September 30th 2023. You won't want to miss this amazing Grand Finale experience!
*Average price based on the price of 4 people/3 nights. Price rounded up to the next pound. Arrivals between 22nd July and 1st September 2023 sharing a Pioneer Cabin at Disney Davy Crockett Ranch. Price example subject to change depending on time of booking. Subject to availability. Conditions apply. See DisneylandParis.com.