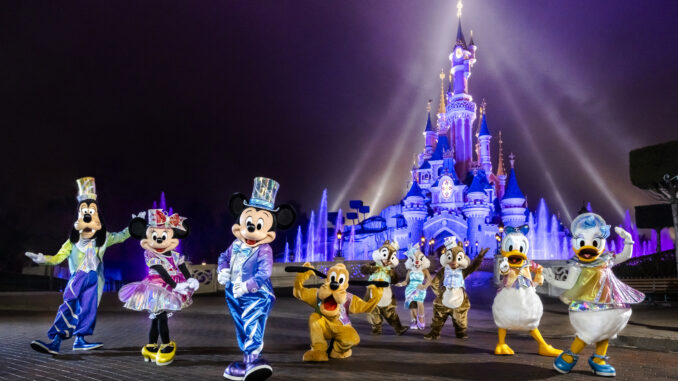 Disneyland Paris 30th Anniversary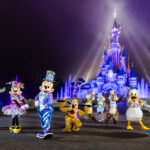 From 6th March 2022, Disneyland Paris invites you to, dream bigger, laugh louder and smile wider than ever before! You can BOOK NOW to secure your part of this magnificent celebration.
A unique atmosphere will fill the air for the 30th Anniversary celebrations with music and decorations transforming Disneyland® Park.
Your favourite Disney Characters are all set to make Disneyland Paris shine like never before with new costumes designed specifically for the 30th Anniversary.
What's more, this is the perfect opportunity to rediscover the magic of the amazing attractions, iconic shows and a star-studded anniversary parade.
What's new for the 30th Anniversary celebrations?
During the once-in-a-lifetime celebration, you will find multiple chances to share a magical moment with Mickey, Minnie and their closest pals in their all-new, shiny 30th Anniversary costumes.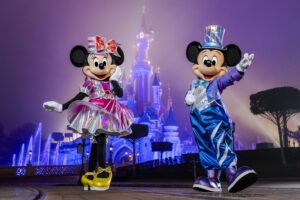 The Disneyland® Paris celebration wouldn't be the same without some unique, Disneylicious food and drink prepared exclusively for the 30th Anniversary. You will want to try everything on the menus when you see what's on offer. With stunning 30th anniversary theming, you can find something new to try to please everyone! Check out some of the delicious new treats on offer below from Ice Cream to cupcakes, waffles, mickey sandwiches & of course a magical celebration cocktail!
30th Anniversary snacks, drinks & new treats!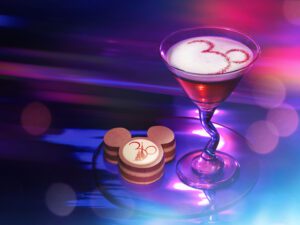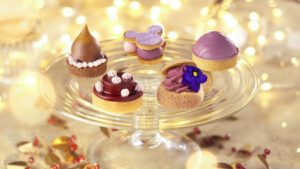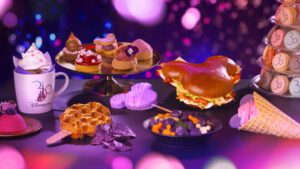 30th Anniversary merchandise and souvenirs
Long after your magical visit to Disneyland Paris has ended, you will be able to remember it all with exclusive 30th Anniversary souvenirs. There's something for everyone! With a massive new range being introduced it is impossible not to want to book an extra suitcase on your flight to take home a piece of Disney. From fluffy toys, Mickey Ears, mugs, Lounge Fly bags & of course much much more. Have a sneak peak at the picture below and start deciding what you want to buy when you visit.
Special Anniversary events to look forward to
Every Disney anniversary is special and unique. The 30th Anniversary celebrations promise to be the biggest yet! From March 6th we will see a new Celebrations daytime show featuring much loved Disney characters. Disneyland Paris is renowned for bringing up new and exciting shows which are world class.
As soon as you enter the parks you will be amazed at all the new 30th Anniversary theming throughout the park. Not only will this be a delight to your eyes but as you wander towards the Castle you will be faced with an incredible floral display of a size never seen before! The all new Gardens of Wonder will be a central masterpiece which you can delight in again and again.
Not only will the park be at it's most visually pleasing but there will be huge technological improvements. The night-time Illuminations show will feature state of the art sequencing complete with a stunning new "drone show" lighting up the sky. It doesn't end there either! During the summer of 2022 sees the opening of the highly anticipated Avengers Campus over in Walt Disney Studios. Featuring 2 completely new attractions (Iron Man coaster & Spiderman Webslingers), a new Ant-Man themed restaurant & all your favourite Marvel character meet-ups. You won't want to miss this!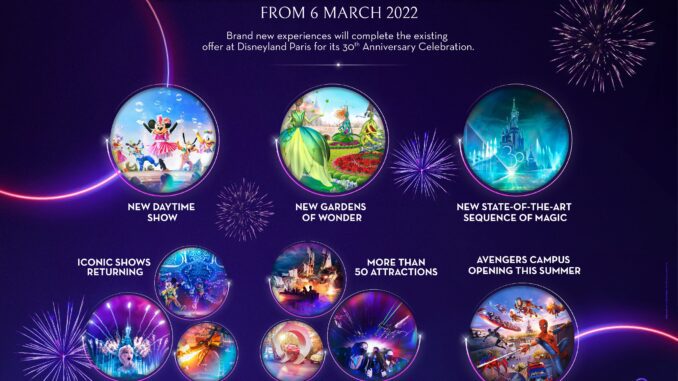 How can you book to celebrate the 30th Anniversary?
The best way to enjoy the 30th Anniversary is to BOOK A PACKAGE directly. The 30th Anniversary celebrations begin on March 6th 2022 but will run well into the summer of 2023 giving you plenty of time to enjoy the celebrations, or even return for a 2nd visit!
You can choose any of the gloriously themed Disney Hotels from the Bambi themed Disney's Sequioa Lodge to the newly imagined and very exclusive Disney's Hotel New York : Art of Marvel. All onsite stays come with park tickets for all guests included for every day of your stay. You also have extra Disney perks such as Extra Magic Time, exclusive Meet n Greets at your hotel & of course the magical feeling of staying inside the "Disney Bubble".
Lowest Price Guaranteed:
Summer 2022 (31st March – 30th September) is an amazing time for you to experience the Disneyland Paris 30th anniversary! What's more, book before 8th March 2022 and benefit from the Lowest Price Guaranteed on a Hotel + Ticket package. Every time they see Lowest Price Guaranteed mentioned, rest assured that you won't find a lower price for the selected package* than at that moment – whenever you search for it. Plus you can lock in your 30th anniversary visit today with a low deposit and the opportunity to refund your stay in full up to 7 days before arrival (excluding costs related to insurance.) and pay your balance off in instalments, interest free.
Some experiences, shows or events will not be available or may be modified depending on the evolution of the health and safety measures and recommendations from public authorities. Guests can visit disneylandparis.com for the most recent updates. All the events, shows, attractions and animations mentioned might also be modified, delayed, cancelled or closed without advance notice and they are subject of climatic conditions
All pictures and artwork are copyright of Disneyland® Paris