The Magic of Christmas at Disneyland Paris
Together with the 30th Anniversary Celebrations, this year is set to be an even more magical time to book for Christmas at Disneyland Paris. The Christmas season begins on 12th November  2022 and continues all the way until January 2023. Disneyland Paris are ready to welcome you to join in the Enchanted Christmas season whether you are enjoying a magical family break, a memorable trip with friends or perhaps that special romantic getaway! Christmas is always a great time of year but why not make it an unforgettable experience and book your stay at Disneyland Paris for the festivities?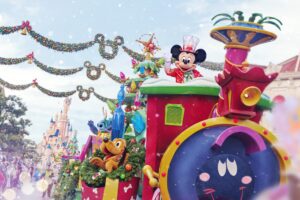 Magical Christmas Atmosphere
Step into a magical Christmas wonderland as soon as you enter the Disneyland Park. From the twinkling Christmas Tree in Town Square adorned with over one thousand baubles and Christmas Disney decorations, all the way down to the snowy scenes of Main Street USA, you'll get to hear the joyful sounds of sleigh bells ringing and the chimes of Christmas carols, providing a magical, festive atmosphere.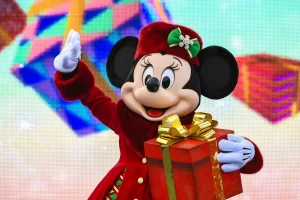 Disney Dreams night-time spectacular
As night falls you will see Disneyland Park light up the sky with the return of Disney Dreams! of Christmas night-time illuminations. In the amazing celebration of the 30th Anniversary, the show will be even more dazzling and elevated for this special year, as a touch of innovation has been added to it! Sleeping Beauty's castle's rooftops will be even more sparkling thanks to brand-new LED technology.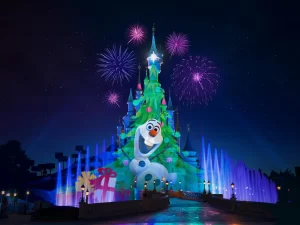 Mickey and his Sparkling Christmas Parade
Christmas at Disneyland Paris is famed for having amazing parades and this Christmas season is no different. Mickey's Dazzling Christmas Parade! consists of 5 colourful and ornate floats which will wow guests day and night. These floats will of course feature Mickey & friends but also, as it's Christmas, we will see Santa Claus and the Disney Princesses. Each float will interact with the rhythm of the music to create a magical Christmas atmosphere. This season, the highlight of the show will be the night-time parade where the characters will end the parade by lighting up the Christmas Tree in Town Square!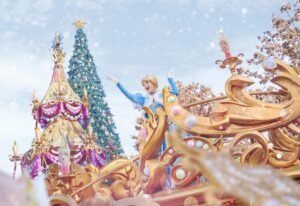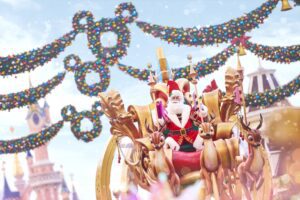 Unforgettable Photo Opportunities
Disney characters love to dress up just as much as we do! You can meet iconic Disney characters, adorned in their best Christmas outfits and have an unforgettable photo opportunity as a souvenir of your visit. And don't forget, the man himself, Santa Claus will be waiting to meet guests before he embarks on his whirlwind worldwide tour on Christmas eve!
Over at Videopolis stage you will be invited to join Mickey, Minnie, Donald, Daisy and Goofy to join in the Christmas celebrations with a musical show titled "Let's Sing Christmas!". The Christmas singalong takes place several times a day with the highlight being a festive Disney style rendition of "All I Want for Christmas is…… Mickey!" which of course will star Mickey & Minnie.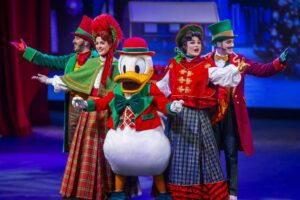 Christmas Sweets and Treats

Christmas at Disneyland Paris is the perfect time to indulge in delicious snacks and sweet treats. This season sees the return of the gorgeous winter food chalets in the L'Hiver Gourmand area at Walt Disney Studios. These charming chalets will offer a range of delectable Christmas treats such as Hot Chocolate, Pancakes, Mulled wine, warm chestnuts and of course Gingerbread delicacies among other tasty treats. This Christmas at Disneyland Paris, will welcome 3 completely new chalets! Visitors can enjoy a wide variety of seasonal specialties, sweet or savoury not only in the park's restaurants but also in Disney Village and around the Disney Hotels.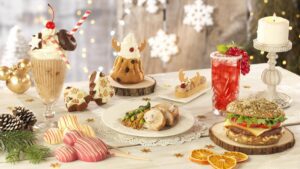 Christmas Souvenirs and Gifts
Of course, Christmas is a time for giving and what better way to treat yourself or close friends and family than buying a gift from one of the many shops in Disney Village, hotel boutiques or park shops. It's Christmas every day of the year in Boutique du Château which is located as you pass through the Sleeping Beauty castle with a huge range of Christmas decorations.
New Year's Eve at Disneyland Paris
New Year is celebrated like no other at Disneyland Paris. A festive and magical evening is planned in the heart of Disneyland Park on 31st December 2022. With brand new Disney shows, dazzling fireworks, meeting Disney characters, riding exciting attractions into the night and a whole host of emotional surprises. New Year's Eve is an amazing, magical experience and a great way to end the year in style.
New Year's Eve Event Disneyland Paris
A ticket for the Disneyland Paris New Years Eve event costs €109 and can buy tickets now from the Disneyland Paris website.
Entry begins at 5:30pm with the event starting at 8:30pm and running all the way through until 2:00am! That's right, you can be riding select attractions & dancing with Characters in the early hours of the morning. What a thrill!
Annual Pass discount on ticket up to 20%
If you book a package or room only stay in a Disney hotel over New Year's then you can get up to 15% DISCOUNT on New Year's Eve tickets as part of your package.
Celebrate the new year with a dazzling celebration at Disneyland Paris with a range of exciting entertainment including DJ sets, 2 parades, exclusive access to ride night-time attractions and a spectacular fireworks display!
Certain experiences, shows or events will not be available or may be modified depending on the evolution of safety and health measures and the recommendations of public authorities.