Magic Over Disneyland Paris to return in 2022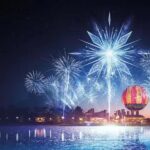 Following the successful launch in January 2020 of the Magic Over Lake Disney event, it is being reported that this special event is returning for January 2022. The events name is having a slight name change and will now be called Magic Over Disneyland Paris. The special night-time spectaculars will take place on the evenings of January 14th, 17th & 19th 2022.
Although the exact details of the event are not yet confirmed, we can be sure that guests will be in for a real treat on these special nights. At the 2020 event guests staying in the lakeside view rooms at either Newport Bay Hotel or the newly refurbished Hotel New York : Art of Marvel had prime viewing from their hotel rooms!
This time however it is reported to be staged at Walt Disney Studios.
The theming around the previous Magic Over Lake Disney event in 2020 was based around the hit Disney franchise Frozen. Following the incredible success of the first Frozen movie, many children fell in love with their favourite new characters including Elsa, Ana and Olaf! Will Disneyland Paris stick with this theme or will they delight us with an all new show? With the show being at Walt Disney Studios, perhaps we will see a Marvel theme? We have to await further details!
For those thinking of travelling during this time you really should check out Disneyland Paris incredible offers for January which we detailed in our "Give the Gift of Disneyland Paris" article some weeks ago.
Here's what we can expect following the last event and hopefully there will be even more added to this seasons event.
2 floating LED screens of 12m x 6m
3 colour lasers
6 water fountains 8m high, capable of launching fireballs
54 Automated moving lights
1 seven-way multijet fountain
8 Flame generators
100 kg of powder for pyrotechnic effects by Show
If you are attending on these dates we would love to hear your thoughts and share your experience on our DLPtips Facebook group.