Halloween Trip Report 2021 – Andrea
I have just returned from a 4 night break in
Disneyland Paris
with my daughter and would like to share our trip report with you all. I was a bit worried at first after reading a few negative hotel reviews but I am pleased to say we had such a fantastic stay at
Newport Bay Hotel
.
Check in was smooth and the Newport Bay staff were very friendly. Due to the ongoing Covid restrictions we had to show our vaccination QR codes daily. You then get a wrist band, which was a different colour each day, so staff know you have a health pass. It was so easy and we did that before going for breakfast. It was quick and straightforward.
The hotel room was a great size with 2 double beds, plenty of towels and an added bonus of a kettle with tea, coffee and sugar. The "mousekeeping" maid came in daily to make the beds and a general clean. Breakfast was plentiful with a good choice of cooked breakfast or a continental selection. It's a good start to the Disney day and we always went away satisfied.
Top Tips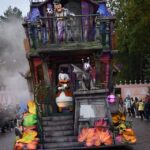 Another top tip we would give is to try to book restaurants before you arrive as they get filled up quickly, especially during busy times such as Halloween. We had some nice meals and really enjoyed
Billy Bob's
restaurant in Disney Village. They serve an "all-you-can-eat" buffet for around
€36.00
and they have a delicious selection of Tex-Mex to choose from. We also managed to eat at
Cowboy Cookout BBQ
on the night of the Halloween Party. We didn't have a reservation but managed to get a walk-in table at about 10pm. The cost was about
€17.00
for a selection of ribs, chicken, sausages and chips. Great value which included a drink and dessert. We would also recommend
Earl of sandwich
, also in Disney Village if you are looking for a good value light meal.
We enjoyed all the rides while we were in Disneyland Paris with our highlights being Ratatouille, It's a Small World, Pirates of the Caribbean and Phantom Manor. All in all we both had a fantastic trip, especially with the Halloween party on October 31st itself.
This was our 3rd time visiting Disneyland Paris and we had such a fabulous time yet again. We are already looking forward to going back!