Disney's Halloween Party 2021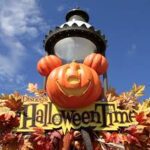 Disney have officially released tickets for Disney's 2021 Halloween Party! For those guests who are attending you will be required to purchase a special ticket to take part in the evening extravaganza.
You can purchase a ticket for this years Halloween Soiree directly from Disneyland Paris at a cost of £80.99 per person. Infinity Annual Pass & Magic Plus Annual Pass holders will be entitled to 15% & 10% off respectively. The price is the same for adults & children but are great value for those who want to experience events which are only ever available during the Halloween parties.
For one night only in 2021 ALL GUESTS will be allowed to wear costumes! This is a real treat as normally this is forbidden! Which outfit would you choose to wear? A scary goblin? A beautiful witch? Perhaps you will be a Ghostbuster?!
Disney's Halloween Party is always a massive event & tickets do sell out very quickly so we would advise BOOKING HALLOWEEN PARTY TICKETS as soon as possible if you wish to attend. Places are limited.
As the darkness approaches the park will light up with spooktacular decorations & ghoulish atmosphere of the parks will reach a fiendishly fun end.
Ghosts and guests can enjoy the attractions long after the witching hour, while surprise Halloween treats that only come out at night, including some seriously sneaky Disney Villains, are lurking throughout the Parks.
Will you be brave enough to attend Disney's Halloween Party?