Family Halloween Trip Report 2021
Travelled to France on the 17th of October which meant the park was already decorated for Halloween. We stayed at the newly refurbished Hotel New York : Art of Marvel. Amazing décor, not only inside the hotel, but also in the bedrooms and carried on outside to the gardens.
There's a great chance to meet a superhero in the Hotel… we met Spiderman! Well worth booking if you have a little one who has a superhero who they like.
We were in Disneyland Paris for 4 nights and loved how close our hotel was to the parks. It was well within easy walking distance.
Day 1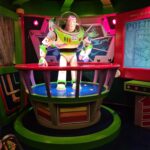 On our arrival day we decided to head to the Disneyland Park. Most of the Disney village shops open at 5pm so we headed straight to the park itself. The Disneyland Paris Official App proved to be a real help.
We could follow the park map, see wait times for attractions and then plan which rides we wanted to go on, or should I say, what our 5 year old grandson wanted to go on!!
His favourites were Buzz Lightyear Laser blast, Mad Hatters Teacups, Dumbo The Flying Elephant and the Pirates of the Caribbean ride. The waiting times were pretty accurate.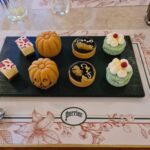 Another piece of advice which will make your trip more comfortable and enjoyable is to wear comfy shoes as you will walk miles during your stay as there is so much to enjoy throughout the resort.
We ate at The Plaza Gardens restaurant on our first day which is a buffet restaurant. There is a lot of choice so you will find something for everyone on the menu. We recommend eating here with the highlight being the desserts. Oh my! Divine!
Day 2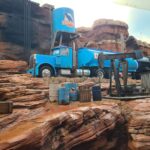 Day 2 gave us the chance to visit the Walt Disney Studios Park. Our highlight for the Studios park were the Cars rides, which we all loved, especially the Cars : Road Trip attraction with its secret event in the middle of the ride.
Annette's Diner was our main port of call for tea in the evening.
This restaurant is an American 50's diner style with a waiter on roller-skates and typical diner food such as burgers, hot dogs and sundaes. We enjoyed an amazing cheesecake for dessert.
Day 3
On our 3rd day we headed back into the main Disneyland Park. We decided to visit Mickey's Philharmagic, which is a 4d experience tucked away behind Star Wars Hyperspace Mountain.  It was lovely to see all the little ones trying to catch 3d things coming towards them.
We then explored Frontierland, which had some great Halloween decorations including from the movie Coco.
We took a ride on Thunder Mesa Riverboats to give our weary feet a rest. Our evening was spent at Chuck Wagon Cafe restaurant in the Hotel Cheyenne. The restaurant décor was like being in the wild west with tables set under the backs of wagon canopies. Great BBQ style platters and again, amazing desserts!
Day 4
Our last day was a chance to repeat our grandson's really favourite attractions including Lancelot's Carousel, Mad Hatter's Tea Cups, Cars rides and more. That left us some time for souvenir shopping in Disney Village and our last night's meal in The Steakhouse. An amazing wood panelled interior adorned with atmospheric old photos and the feeling that you really have stepped back in time once inside.  I can highly recommend the steak which was cooked to perfection.
We enjoyed every minute of our holiday and I hope you enjoyed our family Halloween trip report 2021. We are looking forward to returning soon! Until then I will see you on the DLPtips Facebook Group!