Mad Hatters Tea Cups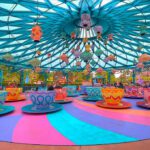 The Mad Hatters Tea Cups attraction at Disneyland Paris is situated in Fantasyland area. The Mad Hatter has cordially invited you to one of his infamous Tea Parties! You will board a giant tea cup before spinning off into the garden. Don't be late for this very important date!
The bright, brash colours, quirky music & eccentric scenery will leave gasping in amazement. Of course, you can try & control the cups but which way should you turn the handle ? This way or that way? It really doesn't matter as you find yourself spinning faster & faster into a magnificent journey for all the family.
Mad Hatters Tea Cups Scenery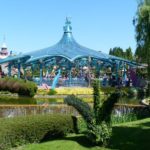 The ride itself is a joyful fantasy through your early years memories as you spin & spin. This may be the highlight but you cannot fail to be impressed with the whole theming of this Alice in Wonderland area.
As you look around you can see Alice's Labyrinth & the grinning Cheshire Cat in the distance. The foliage & pretty flowers decorate the entire area.
The glass roof of the attraction is simply awesome & in the shape of  giant flower petals. There are many Japanese lanterns hanging from the glass ceiling too which illuminate at nightfall for extra drama.
---
Mad Hatters Tea Cups Tips

This is a popular ride for all ages so try & cut waiting times by riding during Extra Magic Hours or in the early evening when the parades are on

At nightfall this ride almost turns psychedelic as the lights go on & you spin around in all the eccentric decorations

The cups are all different colours & riders randomly choose their cups. If your preferred colour isn't available then ask a Cast Member and they can reserve this colour for you before you ride.

---

Mad Hatters Tea Cups Video