Cars Race Rally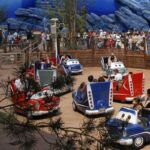 Situated in the Walt Disney Studios area of Disneyland Paris is the Cars Race Rally attraction. In French it is known as "Cars Quatre Roues Rallye".
Based on the smash box office hit "Cars", this ride will make all your kids dreams come true with excellent theming, frolicking fun & a high action spinning ride. In fact this ride was built just 1 year after the movie was released & is unique to Disneyland Paris. Cars Race Rally is located in the Toon Studio area opposite Crush's Coaster & is a very popular attraction for all ages. Young boys especially love this ride!
The attraction itself places you inside your very own rookie car as you take to the track to perform some doughnuts! The ride is a clever spinning ride which takes place upon 2 inter changing turntables. The theming is delightful & there are rock formations based on the Grand Canyon itself. The ride itself is based on an Automobile Service Station in Radiator Springs. The queueing area is detailed with lots of American automobile memorabilia including tyres, an old gas pump (petrol pump) & road signs.
There are also a couple of excellent full size model replicas of a few of the characters. We can see Guido & Luigi on the outside of the ride & inside the ride area we see Mater & Lightning McQueen!
Each car seats up to 4 passengers (2 front & 2 in the back) but please note that the cars are very small & so you will only fit 1 adult & 1 child per row. If you are 2 adults then you will have to take a row each…… & decide who will be the backseat driver! The attraction lasts for around 90 seconds but is a fun filled experience which adults & children will love.
---
Cars Race Rally Tips

This ride is very popular & has a low throughput so try to queue when the parade is on or when other attractions such as Animagique, Stitch or Cinemagique have show times.

If you want a great photo beside Lightning McQueen & Mater then as soon as the ride stops quickly run over before the next ride starts. But be quick!

You can get a great photo with Luigi & Guido as they are both outside the main entrance.

Although this is a spinning ride, it does not make you very dizzy at all as the cars go in a figure of 8 route rather than a straight circle.
---
Cars Race Rally Video