Motors Action! Stunt show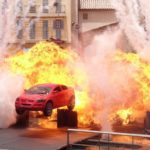 Motors Action! Stunt show is a huge attraction in the Walt Disney Studios Park area at Disneyland Paris.
As the title suggests this is a high action, adrenaline fuelled stunt show. Guests can see a stunning display of automobile stunts, pyrotechnics, car chases & movie stunt tricks in a safe & spectacular arena.
The Motors Action! Stunt show lasts approximately 40 minutes & runs up to 3 times per day at set times. The arena holds up to 3,000 spectators in a huge seated arena. The show itself takes place on a "movie set" styled on a Mediterranean fishing harbour. Motors Action! Stunt show is a family show which all ages will love!
Motors Action! Stunt show : Lightning McQueen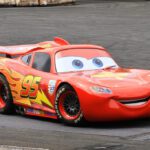 Motors Action! Stunt show features many stunt men from Hollywood who have featured in lots of famous movies, however the star of the show is undoubtedly Lightning McQueen! Kids will love to see a real Lightning McQueen drive into the arena and show us why he is the best little car in the world. "Ka-Chow!"
Not only will you witness death defying stunts but the show also shows you exactly how these stunts are performed & tricks they use to make them seem even more exhilarating! Spectators will be in awe as we see more than 40 vehicles including trucks, cars, motorbikes and even Jet Skis!
This is a show which can be viewed many times, with something different catching your eye each time you view. Not only that but 1 lucky person will be pulled from the crowd & given the opportunity to star in one of the stunt scenes!
Motors Action! Stunt Show Scenes
Motors Action! Stunt show shows us 5 different scenes showcasing different movie stunts and how they are performed using the magic of camera angles, specially designed vehicles & precision timing.
Ballet Scene – The red "Hero Car" evades pursuit by 4 black "villain cars" before jumping backwards over a ramp. We also see one of the villain cars blown in half!
Blockade Scene – The set is changed to a marketplace & we see a chase around obstacles such as trucks, stalls etc. finishing with the Hero car jumping over a truck!
 Audience Scene – A member of the audience is chosen to drive a car using a remote control. The audience member appears to lose control of the car before the trick is revealed!
Catching Fire Scene – Our hero flees pursuers on a motorbike & then on foot before we finally see one of the villains shot & catching fire. A truly death defying stunt!
Grand Finale Scene – The "canal" in front of the audience is on fire. The red Hero Car is again pursued by a single black Villain Car. Driving in & out of buildings before jumping over a ramp, over the burning canal & directly towards the audience before disappearing into a tunnel directly under the audience. An explosion & burst of flames fills the air!
---
Motors Action! Stunt show Tips

As you can imagine, seating up to 3000 spectators can take some time so you need to allow 40 minutes for the show after everyone is seated.

To get the best seats (centre of grandstand centre of seating area) it is best to queue around 15-20 minutes before the show is scheduled.

Some children can get bored, especially waiting on others finding seats, so take a snack or drink in to keep them busy!

Make sure you have battery power left in your camera/phone as there are so many brilliant scenes you will want to capture during this long show
---
Motors Action! Stunt show video