Orbitron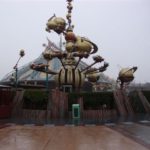 Discover what it feels like to fly in a rocket ship through the planetary systems of the universe in this wonderfully ornate carousel ride. It is located central to the Discoveryland area and is one of the most picturesque rides in Disneyland Paris.
At night-time the ride lights up in beautiful detail.
The ride is reminiscent of an astronomical planetarium instrument which sees you circling clockwise whilst the planets above circle in the opposite direction giving you twice the sense of speed. Whilst travelling you are offered stunning views of the Discoveryland area.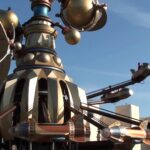 You begin by taking a seat inside your 2 seater rocket ship and strapping yourself in ready for take off. Once everyone is seated then ground control will set the machine in motion and you will begin a voyage of discovery high above Discoveryland.
You are in control of your rocket by using the controls inside the cockpit which allow you to climb high or cruise along the lower reaches of the planetary void. This retro feel carousel really does give you a sense of flying & is worth the wait for the scenic views alone.
Orbitron Top Tips

The ride capacity is low (12 rockets x 2 seats per rocket) so ride time is low too at around 90 seconds only.

This is a family ride for all ages but it is advisable to not take children under 1 year old on due to the heights and seating position.

Climbing into the very low seating can be a challenge especially with small children so make sure they are seated first at the front with adults behind.

Only the person at the front of the rocket ship can control the up & downwards movement

Queues for this ride are always quite long due to it's central positioning in Discoveryland but use Extra Magic Hours to ride quickest.
Orbitron video