Lancelot's Carousel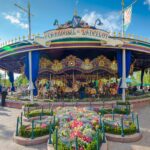 Lancelot's Carousel is another iconic ride found in all Disney Parks throughout the world. In the Disneyland Paris version it is given it's French name of "Le Carrousel de Lancelot". Of course we are all familiar with a standard fairground Carousel but this is Disney! Disney don't do things lightly so this will be the most ornate, beautiful & pleasing carousels you will ever ride in your life.
The horses are all individually carved & ornately decorated with stunning decoration and attention to detail. We expect nothing less of a Disney ride after all.
This is one of the rides in the central plaza of Fantasyland at Disneyland Paris. The music is typical carnival music which is pleasing to hear as you enter the magical area. Nearby you can also see "Excalibur" in a small "Sword in the Stone" area where children can try & pull the magical sword from the stone in an effort to become King of Disneyland!
Lancelot's Carousel theming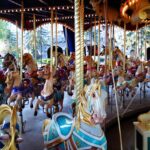 Lancelot's Carousel is larger than many traditional carousel which you will see at fairgrounds around the world.
The detailing on the horses are done using 24 Karat Gold Leaf making them shimmer & shine as they spin.
There just under 100 horses in all & each one is unique to itself with detailed armour & stunning manes.
Not only are there horses, but for those who are unable to ride there are also carriages (unique to DLP) where riders can sit & enjoy the ride too.
---
Lancelot's Carousel Tips

At night-time the Carousel lights up in spectacular fashion with thousands of lights.

Take advantage of Extra Magic Hours to ride early & avoid queues

Take a ride at night for a different experience !

If you are unable to mount the horses then ask a Cast Member if you can sit in one of the carriages or Chariots. They will happily oblige

Between the Carousel % the Sleeping Beauty Castle keep an eye out for the "Sword in the Stone". Children (or big kids) are allowed to attempt to pull it out ! This is a great photo spot also.

---

Lancelot's Carousel Video