It's a Small World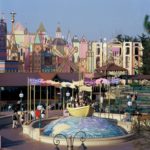 It's a Small World is the Disney gold standard of rides & epitomises what Disneyland is all about. It's fun, safe, entertaining, relaxing & has the catchiest ride song in the whole wide world. Oh…… and it has a song which might just be stuck in your head for the rest of your life!
When people talk about "iconic" rides, you can bet your bottom dollar that this ride is top of many Disney fans lists. The ride features at EVERY park worldwide & is always based in Fantasyland. Here at Disneyland Paris this is no exception. It's a Small World is a dark ride where you travel on a boat visiting many countries & regions of the world. Each region has it's own landmarks & set of animatronic dolls which adorn traditional costumes of the region or country they are from.
Each region flows seamlessly into one another in a show of Global Unity as they each sing the theme tune of "It's a Small World".
It's a Small World Facts
This ride was originally seen in U.S.A parks back in the 1950's and was originally to be named "Children of the World". The tune was to be a loop of each national anthem as you progressed through the ride but this caused a very disjointed experience & was not pleasing to the ear. Walt Disney then asked the Sherman Brothers to write a song based on brotherhood & unity. The song they came up with was "It's a Small World". They had written the song as a ballad but Walt wanted something more cheerful & fun so the Brothers speeded up the tempo to what we know today as the played version.
It is estimated that the song is played around 50 million times per year around the world. This trumps the best played song of all time "Yesterday" by The Beatles which is said to be played around 7 million times per year. Go Disney!
It's a Small World DLP Version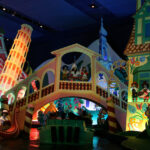 The Disneyland Paris version of It's a Small World is unique as it features an updated façade with differing landmarks & a completely different clock tower to all other versions.
It's a Small World at Disneyland Paris showcases 176 dolls from around the world. The dolls are identical to other parks versions but only Disneyland Paris features a Canadian & North American scene. They also showcase a Middle Eastern scene with the dolls singing in Arabic & extensive scenes featuring many European Nations.
In the final room of the ride the theme tune is sung in both English & French to highlight the fact that we are in France !
It's a Small World at Christmas
During the Christmas season at Disneyland Paris the It's a Small World attraction get's a dramatic makeover as they add the celebration of Christmas to the ride. Decorations are added to the inside of the ride & when you pass through certain regions you can hear the dolls singing "Deck The Halls" & "Jingle Bells". If you keep your eyes peeled you may even spot Santa & his Reindeer flying high above the landmarks !
---
It's a Small World Tips

As you can see in the video above there is a "Parade of Dolls" or "Changing of the Guard" show every 15 minutes on the clock tower of the IASW façade.

This ride usually has low wait times but is especially fun to ride first thing in the morning to get you in an amazing Disney mood for the whole day!

Be prepared to be singing this tune for the rest of your life……. even after returning home…. it really is THAT addictive !

There is so much to see & feast your eyes on that it will definitely require multiple rides. Even then you will still be surprised when you spot new things you missed on previous rides.
---
It's a Small World Videos
---
---