Crush's Coaster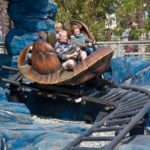 Crush's Coaster is a thrilling rollercoaster ride at Walt Disney Studios park in Disneyland Paris.
Crush's Coaster is based on a scene from the hit Pixar movie "Finding Nemo". Crush's Coaster is one of the feature rides in the Toon Studios area & regularly has very large queue lines. The entrance is themed around Sydney Harbour where Crush & his friends invite you to take a thrill ride through various scenes from the movie.
The carriages are themed to resemble turtle shells which holds 4 guests, 2 on each side facing in different directions. Guests are then taken out into the deep blue ocean. The first stage of the ride is a very slow & relaxing dark ride. The turtle shells meander gracefully through scenes of jellyfish above with neon lights & digital projections illuminate the depths of the sea all around us.
We are faced with some gorgeous scenes including blowfish, a sunken submarine & of course characters from the movie including the shark "Bruce". However, guests should not relax as the second part of the ride takes us on a whirlwind rollercoaster ride, again in the darkness, which represents the scene from the movie where Crush is riding the East Australian Current. This part of the ride is made twice as exhilarating as the turtle shells have the ability to randomly spin on a 360 degree axis.
It is worth saying to any visitors that Crush's Coaster is a family friendly rollercoaster but it is VERY thrilling! The turtle shells reach speeds of almost 40mph & although there are no inversions or loops, there is a 50ft drop. There is no age limit to ride but guests must be at least 107cm to go on the Crush's Coaster attraction. We would not recommend letting children under 6 to ride Crush's Coaster due to the "thrill factor". The ride takes 2m 20s to complete.
---
Crush's Coaster Tips

This ride is hugely popular but you can cut down wait times by riding when the park first opens or later in the evening when the parades are on.

Due to the 360 degree spinning of the shells, this attraction should be done more than once as no experience is the same!

If you are pregnant, have neck or back problems then please do not ride. It really is a fast & turbulent ride.

As this ride has long queues you can beat the boredom by getting out your smartphone & playing the exclusive Crush's Coaster The Queue Game.There is a Wi-Fi connection just around the queue area which lets you connect to the game & play. The game has 5 addictive levels & is FREE to play.
---
Crush's Coaster Video