Rock 'n' Roller Coaster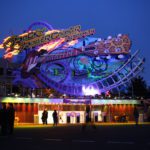 Rock 'n' Roller Coaster is a maximum thrill ride situated in the Walt Disney Studios park at Disneyland Paris. The ride itself is an indoor steel roller coaster with a launched start. Rock 'n' Roller Coaster is themed around Aerosmith (in fact, the rides full title is Rock 'n' Roller Coaster avec Aerosmith) & you are in the process of test driving a revolutionary new way to make a music video.
Steve Tyler, as well as the rest of the band, will take you through the studio pre-show where Steve will tell you all about the invention and how you are about to test it out! Strobe effects, Lighting rigs, Projectors & smoke machines all add to the experience but the best part is the awesome soundtrack!! Of course, being an Aerosmith ride there could only be one band to give the soundtrack……. and they rock it out!
Soundtracker vehicles
The vehicles you enter are called "soundtrackers" & they will guide you through the music at exhilarating speed. Rock 'n' Roller Coaster is the fastest rollercoaster in France & you will be launched at 0-57mph in just 2.8 seconds!! Rock 'n' Roller Coaster is an extreme ride, not for the feint-hearted & will give you forces of up to 4.5G. The ride features 3 inversions including a large half loop into a serpent roll & a corkscrew inversion. There is a photo taken during the initial launch to capture the surprise of rider s which can be viewed at the exit walkway and purchased in the shop area before the final attraction exit.
There are 5 soundtracker trains each seating 24 rock 'n' roll passengers. What makes this ride so unique is that each soundtracker has it's own unique soundtrack & light show. How awesome is that?
Soundtracker 1: green lightshow theme; soundtrack – "Back In The Saddle" and "Dude Looks Like A Lady".
Soundtracker 2: purple lightshow theme; soundtrack – "Young Lust," "F.I.N.E." and "Love In An Elevator."
Soundtracker 3: multicolour lightshow theme; soundtrack – "Love In An Elevator" and "Walk This Way."
Soundtracker 4: red/yellow lightshow theme; soundtrack – "Nine Lives."
Soundtracker 5: blue lightshow theme; soundtrack – "Sweet Emotion (live)."
All about the Rock 'n' Roll Sound system
The entire ride features almost 1000 speakers blasting out the tunes and creating the most Rock 'n' Roll experience you can have in under 2 minutes. Each of the 24 soundtracker seats have 4 speakers in the headrest & a subwoofer below the seat. The main ride building has 820 speakers. Are you ready to Rock out?
---
Rock 'n' Roller Coaster Tips

This ride features Fastpass & can have large queues at times. It's worth noting that Fastpass users also see the pre-show on this ride so you don't miss any aspect of the experience.

You must be over 120cm to ride Rock 'n' Roller Coaster. There is no age limit but it is advisable to only let children over 8 ride due to the intensity & inversions.

As with most coaster rides, riding at the back of the train feels fastest but the front row gives the best & clearest view of the effects
---
Rock 'n' Roller Coaster Video
---