Mystery of the Nautilis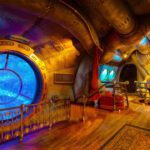 The Mystery of the Nautilis is an enchanting walkthrough attraction at Disneyland Paris. The famous submarine from Captain Nemo's "20,000 Leagues Under the Sea" has been moored at the Discoveryland Lagoon area opposite Space Mission 2.
This stunning walkthrough ride only takes around 5 minutes to complete but there is so much attention to detail inside that you could easily spend up to 30 minutes inside this stunning attraction. Be careful though as there is danger lurking in the Lagoon in the form of a Giant Squid which could attack the vessel at any moment !
Mystery of the Nautilis Experience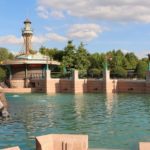 You being by entering the lighthouse station at ground level & descend down the spiral staircase into the depths below. Here you will go through a corridor & enter the main cabins of the submarine itself.
There are 6 cabins to explore which are all featured in the famous movie. Each room tells a story & showcases many artefacts from the movie. There are diving costumes, Captains Logs, desks & a large amount of seafaring equipment authentic to the original movie concept.
The 5th of 6 rooms is where you run into trouble as a Giant Squid attacks the submarine as you look through a large glass viewing portal. The giant Squid is a huge animatronic=c with effects to boot.
Rooms of the Nautilis
The Ballasts Compartment: We start by entering a slightly darkened room with a safe in the centre. You can see treasures from previous expeditions which Captain Nemo is hiding away in safety.
Captain Nemo's Room: This cabin shows us captain Nemo's bed & belongings where he would spend many hours resting between adventures.
The Charts Room: This room is the hub of the Nautilus. We can see an array of nautical charts, including one representing Vulcania Island,  which is Nemo's lair in the movie.
The Diving Chamber: We can see a trap door which leads to the murky depths beneath. We are also treated to various authentic diving suits & equipment.
The Main Salon: This is the nerve centre of the Nautilus. Books, artefacts, and treasures of previous expeditions are seen here. The Captain's organ stands on the far side and guests can see Nemo's reflection when staring at the mirror just above the keys. One large porthole opens at the side of the submarine and allows guests to witness the attack of the giant squid. The Giant Squid rushes towards the Ship & we can see it's large open mouth & tentacles attempting to pull the vessel away until a stunning bolt of electricity is used to fend the creature off.
The Engine Room: The final room of the walkthrough. We see a power unit on the opposing wall with the engine on display. There are smoke effects in use here.
---
Mystery of the Nautilis Tips

Check the main wait times boards at Discoveryland as this attraction is not always open, especially in low season. If it is open, wait times are always low.

If being underwater frightens you then fear not….. you don't actually go inside the submarine which you see in the lagoon. Instead are taken in the opposite direction when you go down the spiral staircase and enter a showroom beside the lighthouse in the opposite direction from the lagoon.

---

Mystery of the Nautilis Video