Armageddon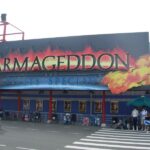 Armageddon – Les Effets Speciaux is an attraction at Disneyland Paris, situated in the Walt Disney Studios park. This family ride is based on the movie "Armageddon" which was released in 1998.
If you have ever wondered how they make some of the explosive & high action scenes in Hollywood then this attraction will leave you highly impressed. The ride itself is a walkthrough featuring both a pre-show & the main attraction itself.
You will be taking part in a movie scene lifted straight from the box office hit movie "Armageddon". Do you have what it takes to survive a massive explosion on board the Space station? Well, we are about to find out!
Armageddon Preshow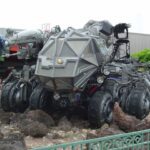 This attraction actually begins before we even enter the building. Outside the Armageddon studio visitors can see a scale version of the "Armadillo Rover" from the movie. Then we enter the building itself for the "pre-show" which lasts around 15 minutes.
Visitors are given a short presentation detailing the history of special effects by Michael Clarke Duncan ("Bear" in the movie Armageddon).
We are then told that we will be Extras in a movie scene recreation. The scene takes place aboard the Russian Mir Space Station. We will be joined by an on board computer & also Colonel Andropov. The doors open & we are taken into the studio of the Space Station set.
Armageddon Main Show Scene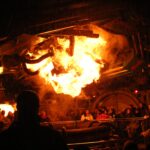 Guests filter onto the set & take their place around a central air duct. Once everyone is inside the doors are closed behind us and we are sealed in! The director shouts "Action!" & the screens light up to show us either a picture of Space or a view of Earth from the Space Station depending on which part of the room you are in. Colonel Andropov is alerted by the on board computer that we are about to experience a Meteor shower.
Things then start to go wrong very quickly! The room begins to shake & shudder as Meteors crash into us. Gas pipes burst, the lights flicker & we see the roof of the cabin begin to implode. On the left side of the room there is a breach of the cabin & we feel a rush of pressure loss. On the right side of the cabin there is an explosion as fire breaks into the cabin. We then see the largest of the meteors approaching with a huge explosion. The lights go out & the Director shouts "Cut!".
The main show itself only lasts around 6 minutes, but it is an intense experience to say the least. Although this attraction is for all ages, it is worth noting that some younger children may find it stressful & unnerving. This is testament to the realism of the effects! The ride can accommodate up to 170 guests per show so wait times can be low most of the time. The models & props which you can see in the pre-show are taken straight from the set of the movie….. including the Armadillo Rover parked outside!
---
Armageddon Tips

When you enter the main area try to stand next to the "safety hatches" on the right hand side for the biggest interaction with the flames! Alternatively, if you are scared then stay away from this area!

If you plan to go on this ride then please watch the movie before you go & you will get a glimpse as to what to expect from the scene. It's quite good!

The floor does shake and so please keep a hold of children or ask them to hold on to the railings of the central shaft.

There are 2 studios, Studio 7-A & Studio 7-B. Both are the same show but the pre-show has different props from the movie.

---
Armageddon Video