Captain Jack's – Restaurant des Pirates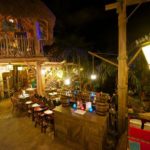 Captain Jack's – Restaurant des Pirates is situated in Adventureland area of Disneyland Park in Paris. This beautifully atmospheric restaurant is truly memorable experience. It used to be known as Blue Lagoon restaurant but was re-imagineered in 2017 to the new style & renamed Captain Jack's – Restaurant des Pirates. This now fully ties in with the ride in which it appears as part of & completes the full theming of the area. It's wonderful that Jack Sparrow now has his very own restaurant! Let's hope he hasn't polished off all the rum!
Entry to this delightful restaurant is to the side of the attraction Pirates of the Caribbean. The beauty of this restaurant is that you are actually seated INSIDE the ride itself & will be able to wave at the blaggards setting sail along the blue Lagoon on the horizon. You must voyage deep inside the fort area until you reach the lantern-lit shores of the Blue Lagoon itself. Here you will be able to partake of delicious cuisine inspired by vibrant Caribbean cuisine & exotic seafood.
Amid a tropical setting of palm trees & white sands you are invited to choose from an extensive menu featuring swordfish, crayfish, scallops, steak, pasta, chicken & salads. With such a stunning location & immaculately themed area it is advisable to book in advance at this very popular restaurant. "YO-HO, YO-HO a Pirates Meal for ME!"
---
Captain Jack's – Restaurant des Pirates Menu
Captain Jacks Restaurant des Pirates

---
Captain Jack's – Restaurant des Pirates Video