Indiana Jones & the Temple of Peril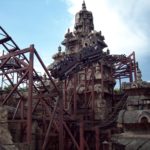 Indiana Jones & the Temple of Peril is a roller-coaster situated in Adventureland at Disneyland Paris. The ride is not for the faint hearted & features a 360° loop. In fact this is the only outdoor rollercoaster at Disneyland Paris which features a loop although Rock 'n' Roller Coaster & Space Mission 2 both have loops & inversions.
With approximately 600 metres of track, this ride only lasts around 90 seconds but it is one of the most thrilling rides at Disneyland Paris. The height requirement is 140cm (highest of all rides) and you are placed in "mine-cart" carriages with over the shoulder restraints to keep you from falling out! You also need somewhat of a head for heights as this ride is almost 60 feet above the ground!
Indiana Jones & the Temple of Peril was once switched to a backward facing coaster between 2000-2004 but was returned back to the normal front facing coaster we all love today.
Indiana Jones & the Temple of Peril Theming
The whole area is themed brilliantly with lush vegetation & winding paths making you feel as if you have just stepped into the jungle areas of South America. This area was originally due to be much larger with a complete Indiana Jones land with it's own indoor show, restaurant & shopping area along with another ride but due to financial constraints in the Disneyland Paris park it was decided to remain as a much smaller area……….. for now!
You start by heading towards the ride entrance and onwards through a winding path which is overgrowing with jungle foliage & exotic plant life. We pass several abandoned vehicles & camp sites from a previous expedition which never returned! The queue line is very atmospheric & enjoyable with plenty of authentic expedition equipment to see along the way but soon you are confronted with the steps of the temple leading up to the ride itself. As we climb the stairs we can see the brave souls who have went before us currently hurtling around the tracks & being thrown around the small loop.
Are you brave enough to search for the hidden treasure on Indiana Jones & the Temple of Peril?
---
Indiana Jones & the Temple of Peril Tips

the ride can be very shaky as your head can be bumped about a bit so try and stay relaxed !

Make sure to seal up valuables and zip your pockets so as not to have anything fall out while going through the loop

Use the fastpass as queues can become very long during peak times

---
Indiana Jones & the Temple of Peril Video