Colonel Hathi's Pizza Outpost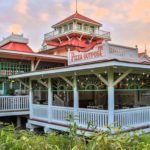 This delightful restaurant, situated in Adventureland area in Disneyland Paris is always a hit with kids & adults.
Themed to The Jungle Book, you will feel as if you have stepped into deepest darkest Africa! On offer are mouthwatering Pizza, Pasta & Desserts.
Do you need some Bear Necessities to keep you going on a busy day at Disneyland Paris?
Colonel Hathis Pizza Outpost Menu
Colonel Hathis Pizza Outpost menu

---
Colonel Hathis Pizza Outpost Video
---