Aladdins Enchanted Passage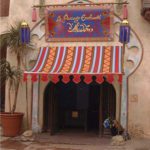 Aladdins Enchanted Passage is a walkthrough attraction based in the Adventureland Bazaar area of Disneyland Paris. The walkthrough takes you into an inside area which resembles a caved area.
You are then taken through a series of decorated windows showcasing the story of Aladdin.
There are 9 glassed showcase windows which are detailed below and the whole walkthrough will only take a short amount of time. The time you take however depends on how long you look at each window. You could be in & out in a matter of a few short minutes or you could easily spend 30 minutes in here looking at all the glorious details & enjoying the storyline. As well as the windows there are ornate decorations on the walls & walkways themselves.
Aladdins Enchanted Passage Windows
One Jump Ahead: This window recreates the One Jump Ahead scene from the movie. Aladdin has stolen food & is being chased through Agrabah by the Sultans guards.
The Magic Lamp: This scene is the first glimpse of the Genies Lamp sitting on top of a rock inside the Cave.
Aladdin's Home: Aladdin has escaped the guards & returned home where he gazes at the Sultans palace dreaming that he too can have a palace like this one day.
Cave of Wonders: Aladdin is reaching for the Tiger-shaped entrance to the Cave. Visitors will notice the Lamp deep inside the Tiger's throat.
Friend Like Me: Our first look at the Genie as Aladdin summons him from the lamp & the Genie sings his song "Friends Like Me" from the movie.
Prince Ali: Aladdin returns to Agrabah, disguised as mighty Prince Ali Ababwa, in order to marry Jasmine. In this scene, everyone in the streets hails to him, except for a raging Jafar who sees him as his rival.
Snake-like Jafar : Jafar has transformed himself into an incredibly large snake & attacks Aladdin inside the palace. Jasmine is trapped behind.
Jafar Defeated: Aladdin has defeated Jafar & trapped him inside his own lamp. Iago is also forced into the lamp beside Jafar who has now become a Genie. Jasmine has been freed from the sand & we see Aladdins Genie in the background.
Farewell: Aladdin and Jasmine fly above Agrabah on their Magic Carpet, under a smiling Moon-shaped Genie, waving goodbye to all the guests. The scene features the most famous song A Whole New World.
---
Aladdins Enchanted Passage Tips

Although this is not really a huge attraction it is certainly worth spending a few minutes & reliving the movie experience.

There are never wait times at Aladdins Enchanted Passage & visitors can walk straight up and enter the attraction.

Aladdins Enchanted Passage is especially nice on very hot days as you can cool off inside the cool passage whilst seeing some Disney magic to boot!

---

Aladdins Enchanted Passage Video