Thunder Mesa Riverboats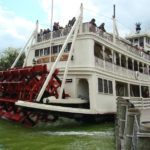 Thunder Mesa Riverboats are a family attraction situated in Frontierland on the "Rivers of the Far West".
There are 2 riverboats in operation. The "Mark Twain", which is a stern-wheeler, is named after the famous American author of "The Adventures of Tom Sawyer". The "Molly Brown" is a side-wheeler (the only side-wheeler in any Disney Park around the world) and is named after a survivor of the Titanic!
The old fashioned steamers can carry up to 400 passengers per trip on a journey which encircles Big Thunder Mountain for approximately 15 minutes. There is normally only one riverboat running at a time although during the busiest summer months there can be both in operation around the Rivers of the Far West route.
Thunder Mesa Riverboats sights
The complete voyage around the Rivers of the Far West takes in many sights which are out of sight for other guests. This is an enjoyable cruise for guests to take to see much more of the park.
Big Thunder Mountain
Phantom Manor
Wilderness Island
Smuggler's Cove
The Old Fisherman & his Dog
Yellowstone National Park geysers
 Dinosaur Excavation site
Wildlife
Waterfalls
Riverboat Landing area
---
Thunder Mesa Riverboats Tips

The boarding/landing area is split into 2 areas. One area holds up to 400 people so if this area fills then you will have to join area 2 & await the next boat.

The steam boats aren't actually sailing in the exact but rather pulled along on rails on the bed of the river.

If you ask a Cast Member they occasionally allow younger guests onto the "bridge" of the ship to steer the boat & sound the horn!

At night time the boats light up in spectacular fashion. Try to catch Phantom Manor or Big Thunder Mountain as a backdrop to photos for added effect.

---
Thunder Mesa Riverboats Video